ONLINE OR IN PERSON? LOCAL PROGRAMS STRADDLE LINE
As Times Change, Universities Fine-Tune MBA Programs
Thursday, June 20, 2019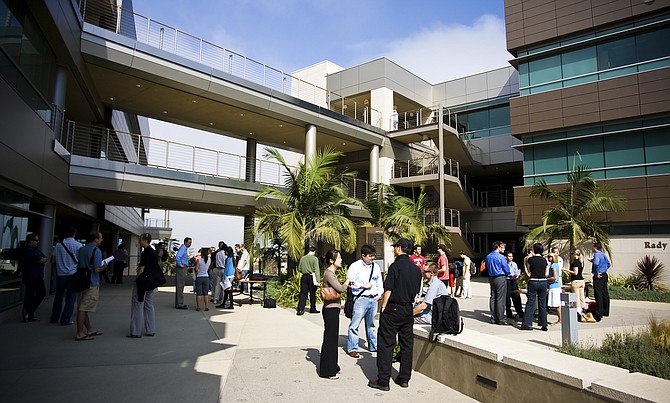 Universities stand conventional thinking on its head. It's what they do. So it should be no surprise that the classic MBA is getting a makeover.
At San Diego State University's Fowler College of Business, administrators are reviewing the classroom-only master's program in business administration. Graduate programs director Nikhil Varaiya said the college might add an online component to its MBA program, perhaps as soon as fall 2021.
"We are all struggling to determine the best mix of face-to-face and online," Varaiya said in a recent interview.
SDSU already offers online courses in its undergraduate business curriculum. Varaiya said MBA curriculum coupled with state-of-the-art technology may be a significant improvement to what was offered 10 years ago, when technology was "rudimentary."
Not only is technology better. "The world has changed," Varaiya said.
The University of Illinois made headlines recently by cutting off enrollment to its full-time and part-time residential MBA programs. Going forward, it plans to concentrate on an online MBA program. It's not alone. Market demand for traditional formats is declining, the midwestern university said, while applications to its online program have nearly tripled in three years to a projected 3,200.
"The [online] iMBA is the right format for the times — providing a powerful learning experience with anytime/anywhere accessibility at an affordable cost," said Jeffrey Brown, dean of Illinois' Gies College of Business, in a statement released in late May.
'Extremely Crowded'
Today, San Diego residents find they can take advantage of MBA programs in far-flung markets. On the flip side, some San Diego universities are tapping faraway student populations. One quarter of the student body at National University is active-duty military or veterans. The private, nonprofit university has seen San Diego students complete its programs in war zones.
San Diego institutions offer both in-classroom and online MBA programs. Some universities mix both approaches.
As in the business world, competition for MBA students is fierce.
"The graduate management education market is extremely crowded right now," said Kacy Hayes, assistant dean of graduate programs at the University of San Diego's School of Business.
An increase in online programs gives students even more choices, Hayes said.
The University of San Diego offers full-time MBA programs "on the ground," said Hayes, and an evening professional MBA program. USD developed its hybrid MBA program — mixing weekend classes and online work —in 2016.
The Rady School of Management at the University of California, San Diego does not have an online program yet, but is considering what technology can offer its MBA program, said Dean Robert Sullivan.
Global Realities
National University offers MBA coursework in the classroom as well as online. The institution promotes its MBA program as flexible, accessible and affordable. Students enroll in one class per month, and switch subjects after four weeks.
"You can finish the program in a year if you are motivated," said Gangaram Singh, provost at National University. An "asynchronous format" means students do not need to be at a particular place at a particular time, he said.
While some argue that the classroom offers the best environment for group exercises, Singh said that group work online is "more intense, to a large degree."
Consider the global economy, Singh said, and people having to rise at 4 a.m. to have a conference call with a team on the other side of the world — for example, in Hyderabad, India.
That, the educator argued, is today's business environment.
The pricier MBA programs in San Diego, from UC San Diego and the University of San Diego, offer other things to sweeten the deal. They include chances to study abroad.
Until recently, the University of San Diego had a two-track MBA program, offering either general management or international business. It has since folded the two together, requiring international study from its MBA students.
Ben Hebbe, a recent graduate of the USD's MBA program, said he traveled to Mexico, China and South America to take on projects in international business.
UC San Diego recently added an international component to its MBA program, Sullivan said. Its first group under the program spent several days in Mexico six weeks ago. Programs in Israel and China are also offered.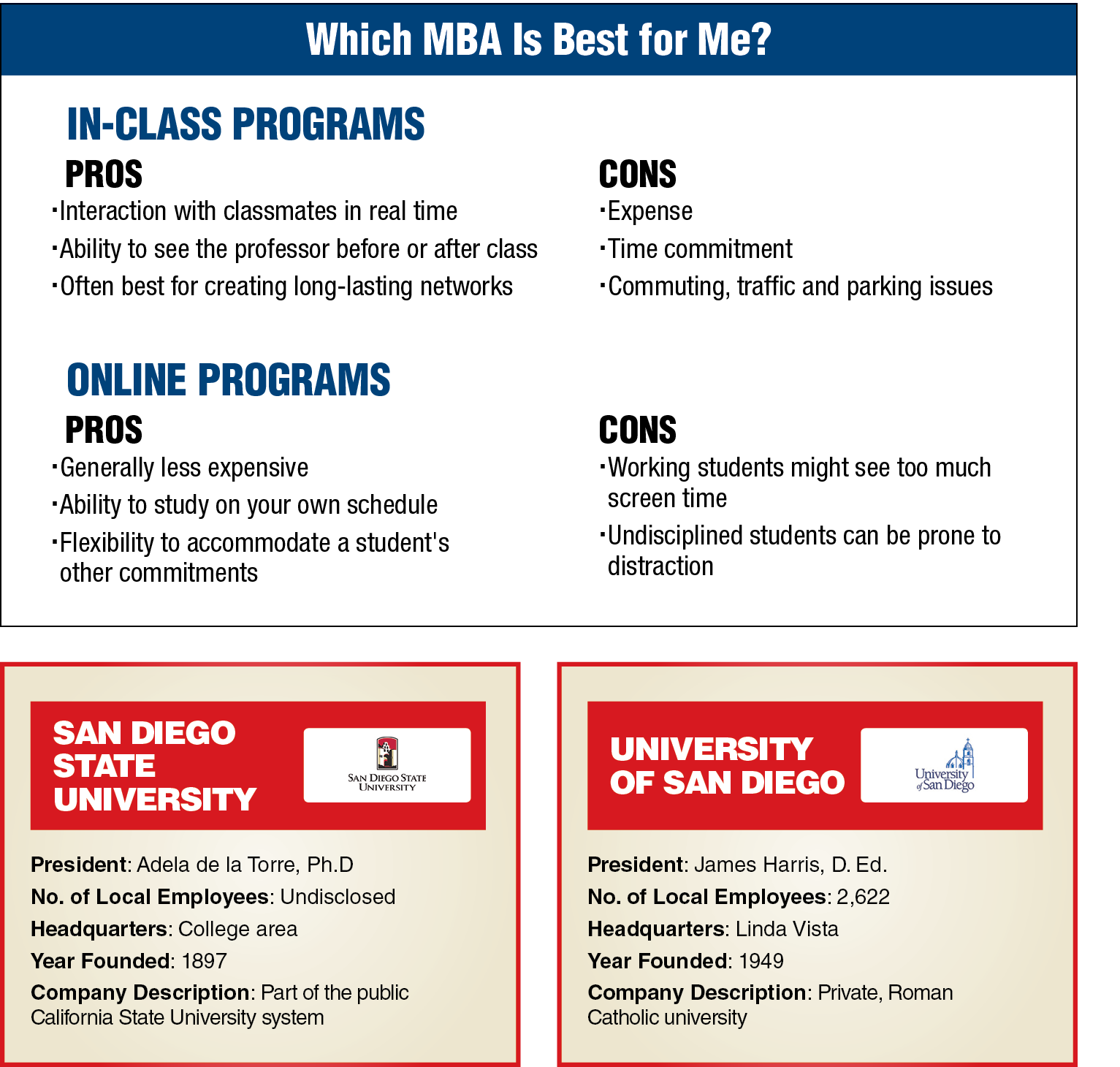 Bringing It Home
UC San Diego's program in no program for generalists, the dean said. It focuses on science, technology and life science, and boasts the resources of one of the largest University of California research institutions. One highlight of the UC San Diego curriculum is a three course sequence dedicated to taking a technology from lab to market.
The MBA life can be a tough one, one that runs up against real-world concerns.
MBA programs are decreasing in enrollment, SDSU's Varaiya said, because students are having a tough time getting off work. Student debt is also a huge issue. A person about to enter a full-time MBA program can expect to forgo earnings for two years and face up to $200,000 out-of-pocket for tuition.
The online life isn't all rosy either. The student who has been working eight to 10 hours a day has to decide whether to put in four more hours in front of a computer monitor, said Varaiya, who is also a professor of finance. Hebbe, the recent graduate, said MBA candidates who opt to study online can be prone to distraction.
Hebbe, who now works for HP, said he was happy to have gone through a classroom program. Being a full-time student shows that you truly immersed yourself in the program, he said.