NORTHROP GRUMMAN BUILDS ELECTRONICS IN SEPARATE EFFORT
Cubic to Provide Advanced Data Link To F-35 Lightning II
Thursday, June 20, 2019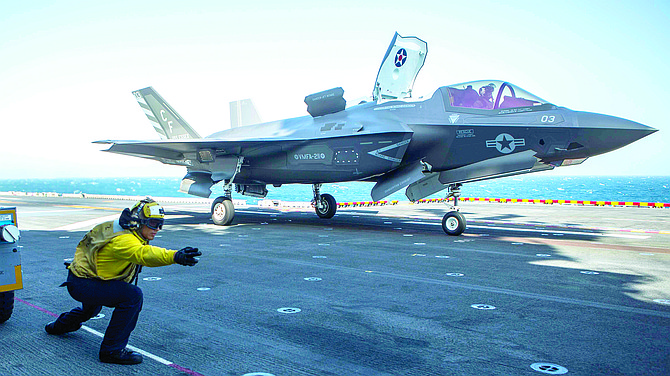 The space for electronics inside a Lightning II fighter aircraft is at a premium.
Northrop Grumman Corp. has long provided some of those communications and navigation electronics, building them in one of San Diego's northernmost neighborhoods.
Now Cubic Corp. is getting a spot in the F-35.
Cubic (NYSE: CUB) announced on June 11 that it will deliver a video data link solution for the aircraft as part of a modernization effort. Financial terms of the deal were not disclosed.
"We are very pleased to partner with Lockheed Martin to provide a secure video data link capability for the F-35," said Mike Twyman, president of the Cubic Mission Solutions business unit, in a statement distributed by the company. Lockheed Martin is the prime contractor, assembling the aircraft in Fort Worth, Texas.
"Our team of protected communications experts have decades of experience supplying common data link systems and we look forward to partnering on this critical program," the executive said.
Cubic said it is keeping size, weight and power consumption to a minimum.
"With our proven track record of managing a program from development through fielding, along with the proven performance of our software-defined radio products including the Nano Multi-band Miniature Transceiver, we are confident in our ability to deliver a low-risk, cost-effective Video Data Link solution with built-in lifecycle enhancements," said James Parys, program director for Cubic Mission Solutions.
Northrop Grumman (NYSE: NOC) got a berth in the F-35 through its acquisition of TRW. Like Cubic, Northrop Grumman provides software-defined radios. During a plant tour in 2015, company representatives showed off their F-35 radio production line near Rancho Bernardo. More than 1,000 electrical components fit onto the printed circuit boards produced in the factory. At the time, officials estimated that production would run until 2040.
In early June, the Pentagon awarded Lockheed Martin a $1.8 billion follow-on contract for F-35 aircraft.
The U.S. Navy, U.S. Marine Corps and U.S. Air Force are flying three different versions of the fighter. The F-35 is also going to foreign military customers.