BIOTECH: ANTIBODY WAS ISOLATED IN LAB
MappBio Awarded $16.5 Million For Work on Ebola-Like Viruses
Wednesday, June 19, 2019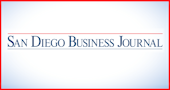 MappBio — a once-little known San Diego biotech that captured worldwide interest with experimental drugs for Ebola and other viruses — landed another big contract.
A division of the U.S. Department of Health and Human Services awarded Mapp $16.5 million, with an additional $30 million possible.
The funding is to push MBP091 through a phase 1 clinical trial for the Marburg and Ravn viruses. Similar to Ebola, they're known for hemorrhagic fever.

The most recent Marburg virus outbreak occurred in 2017 in Uganda, resulting in relatively high fatalities, according to MappBio.
MBP091 is an antibody that was isolated in the laboratory of Dr. James Crowe at Vanderbilt University Medical Center from a survivor or Marburg virus infection. Mapp then licensed it.
CEO Kevin Whaley called the funding a good example of a public private partnership that advances therapeutics, both for individuals and the Strategic National Stockpile, the nation's largest supply of potentially lifesaving pharmaceuticals and medical supplies in case of emergency.
MappBio rose to prominence in 2014, after its experimental drug, ZMapp, was used during the West African Ebola outbreak. Fast forwarding, ZMapp is part of a clinical trial launched last year that's designed to test four Ebola therapies in the Democratic Republic of Congo and other areas.
Researchers have set up sites where Ebola outbreaks arose, an unconventional drug testing arrangement, complicated by an uncertain security environment, according to media reports.
ZMapp is a cocktail of monoclonal antibodies that's manufactured in plants.
Along with the latest funding, MappBio last year recently received a $14.8 million contract to advance a treatment for Sudan virus. Under the contract — also awarded by a division of the U.S. Department of Health and Human Services — the company is eligible for an additional $32 million, dependent on hitting milestones.
MappBio obtained an exclusive license to develop and commercialize the antibodies that make up MBP134.
The treatment was born of a private-public partnership between MappBio, the company Adimab, Albert Einstein College of Medicine, National Institute of Allergy and Infectious Diseases and other organizations.