Arcturus Nets $30M in Expanded Collaboration with Ultragenyx
Wednesday, June 19, 2019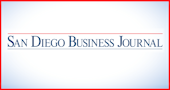 Ultragenyx paid San Diego's Arcturus Therapeutics $6 million in cash and is poised to invest $24 million in the company following an expanded agreement.
The companies plan to discover and develop a slate of mRNA, DNA and siRNA therapeutics for 12 disease targets.
"The expansion of the collaboration with Ultragenyx underscores the partnership's early successes and ongoing commitment," said Arcturus CEO Joseph Payne. "Our expertise in the discovery, early development and manufacturing of RNA medicines aligns well with Ultragenyx's proven clinical development and commercial experience in rare diseases."
Ultragenyx will buy 2,400,000 shares of Arcturus' common stock at $10 per share. With the investment, Bay Area-based Ultragenyx would become Arcturus' largest shareholder.
In connection with the deal, Karah Parschauer, general counsel of Ultragenyx, is set to join Arcturus' board. Emil Kakkis, CEO of Ultragenyx, will be an Arcturus board observer.
Besides the $30 million, Arcturus is eligible for preclinical, clinical, regulatory, and sales milestone payments on drug candidates arising from the deal. Arcturus could also receive royalties on sales, as well as be reimbursed certain research expenses.
The companies first partnered in 2015.