Zovio Inc. Announces Expected Layoffs in WARN Filing
Tuesday, June 18, 2019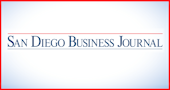 Zovio Inc., a San Diego-based education technology services company, will undergo layoffs, according to a WARN filing with the Employment Development Department of California. Formerly known as Bridgepoint Education, Zovio could lay off up to 248 employees, including financial and enrollment advisors.
The affected employees work at the Zovio & Ashford University Building. The first round of terminations is expected on August 12, the second round on September 20 and a third round is expected to occur on October 18.
Employees do not have bumping rights and don't have union representation.
Travel & Hospitality reporter Mariel Concepcion can be reached at mconcepcion@sdbj.com or 858-634-4625.