Sundt Foundation Continues Constructive Role in the Community
Monday, June 17, 2019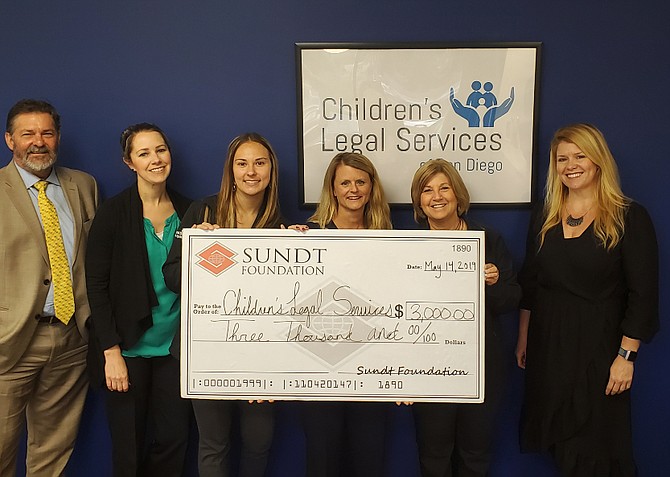 Sundt Cos. Inc., through its Sundt Foundation awarded a total of $17,000 in grants to six local nonprofits during its second-quarter disbursements.
The Sundt Foundation awards grants quarterly to area charities that support disadvantaged children and families. Nonprofits are selected through an application process and reviewed by a committee of Sundt employee-owners.
"Our committee in San Diego finds it gratifying to assist these six local charities," Elizabeth Tague, the Sundt Foundation's San Diego region board member, said. "All of our employee-owners believe in contributing to the communities we live and work in."
Second-quarter grants include:
Canine Companions for Independence, Southwest Region, received $3,000 to support the placement of an assistance dog with a child with disabilities, as well as offset the costs of providing follow-up services for the duration of the partnership.
Children's Legal Services of San Diego, which received $3,000, will provide incentives to foster children transitioning into adulthood. It aims to bring a higher number of individuals into the program easing the transition for the young people.
Helen Woodward Animal Center, which received $3,000, will use the grant to support their Pet Encounter Therapy program, which brings the unconditional love and joy of animals to at-risk youth who are at facilities for children who have been removed from their home due to abuse and or neglect.
The NAWIC SD Future Construction Leaders Foundation received $2,500 to support their high school outreach, Camp NAWIX San Diego for young girls ages 12 – 19. The free, week-long construction day camp includes learning various trades from companies who volunteer their time.
Shelter to Soldier Inc., which received $3,000, adopts dogs from local shelters and rescue organizations and trains them to become psychiatric service dogs for post-9/11 combat veterans suffering from post-traumatic stress, traumatic brain injury and other combat injuries.
The Autism Society San Diego received $2,500 to support their pool PALS program. This program teaches people with autism to swim, learn water safety and provides positive therapeutic exposure to water since they often have a genuine love of water.
Sundt's proposal is to build environments where its clients, employee-owners and communities prosper. The Sundt Foundation was established in 1999 as a way for employee-owners to give back to the communities in which they live and work.
The organization is funded primarily by contributions from Sundt employees, which are matched by the company. To date, the foundation has awarded more than $9.5 million in donations.