DIVERSE LINES OF BUSINESS WOULD JOIN UP IN MID-2020
United Technologies, Raytheon Merger to Touch San Diego
Sunday, June 16, 2019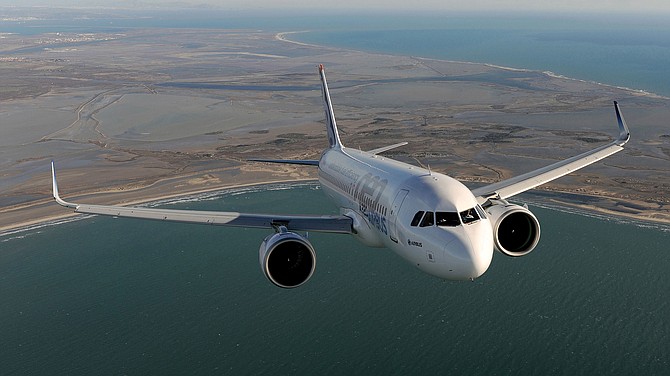 A sizable aerospace and defense industry merger announced earlier in June will affect San Diego County. The marriage of United Technologies Corp. and Raytheon Co. promises to create a business with $74 billion in annual revenue. Though it won't be based here, it will sweep several diverse, local business operations into a common portfolio.
Think cybersecurity software, electronics for fighting ships and lightweight passenger jet nacelles. The latter are the big, round structures that fit over jet engines on commercial aircraft. The United Technologies business in Chula Vista, now operated as Collins Aerospace, deals in such aerostructures. It goes back several mergers to what was once Rohr aircraft, a business that really got going with the arrival of World War II. More on its modern operations in a minute.
United Technologies plans to join with Raytheon in what is being called a merger of equals, which will combine complementary portfolios. If all goes according to the companies' plans, the all-stock deal is expected to close in the first half of 2020.
Raytheon is known for its missiles, including the Standard Missile shot from U.S. Navy ships. It conducts a minor amount of that work in San Diego, totaling a few million dollars, according to a Sept. 28 announcement from the Pentagon.
Raytheon also provides electronic and combat systems for the futuristic Zumwalt-class Navy destroyers, including the Total Ship Computing Environment. In 6 million lines of code, it provides all shipboard computing applications, including the combat management system; C4I (which stands for command, control, communications, computers and intelligence); ship and machinery control systems; damage control; and support systems.
The Navy sends millions of dollars to Raytheon in San Diego to improve the Zumwalt ships' software. When it awarded a nine-month contract in fall 2017, $6.8 million in work was slated to be done locally. More recently, $20 million of a nine-month software contract awarded in December was designated to flow to San Diego. The Zumwalt destroyers have been tenants of BAE Systems' local shipyard in Barrio Logan.
Raytheon also owns 80.5% of the Forcepoint cybersecurity business previously known as Websense. It has a big office in Sorrento Valley. Vista Equity Partners owns the rest of the business.
In other news, the Collins Aerospace unit of United Technologies said it reached a milestone in its business with European aircraft builder Airbus. Collins delivered its 1,000th engine nacelle for the Airbus A320neo program, and the 9,000th nacelle for the V2500 engine, making the announcement May 30. Collins celebrated at its factory in Foley, Alabama. The program office is in Chula Vista.
Airbus and its local supplier have been working together for 45 years.