COMPANY PLANS TO DEVELOP THE PROJECT IN STAGES
Sudberry Building Business Park On 50 Acre Site
Sunday, June 16, 2019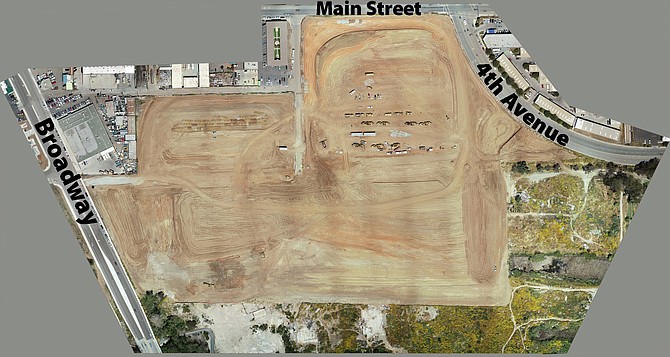 Sudberry Properties has started construction of a 409,500 square-foot business park in Chula Vista that will include a mix of commercial and industrial projects.
The 50-acre site of what Sudberry Properties is calling the Otay River Business Park is vacant land that was once a strawberry field and concrete plant.
The site is bordered by Broadway on the west, Main Street on the north, Fourth Avenue on the east and Otay Valley Regional Park on the south.
The business park which consist of seven industrial buildings ranging from 40,0000 square feet to 67,500 square feet with about 5,000 square feet of retail space which will include a car wash and a 7-Eleven store.
The project also will include a 13.9-acre public park with an additional chunk of about six acres set aside as open space.
Sudberry Properties plans to develop the property in stages.
Working on the project are SCA Architecture of San Diego, Lightfoot Planning Group of Carlsbad and Ridge Landscape Architects of Irvine. A general contractor hasn't been chosen.
"The project will give tenants superior flex industrial space within a beautifully landscaped environment with restaurants, services and shopping within walking distance," said Colton Sudberry, president of Sudberry Properties.
"The Otay River Business Park is ideally located to meet the needs of light industrial and warehouse tenants, companies with cross-border business, startups and R&D (research and development) facilities," Sudberry said.
Among other projects, Sudberry Properties is the developer of the mixed-use community of Civita in Mission Valley.
Sudberry is one of several developers that have been drawn to South County of late, particularly to land in the Otay Mesa portion of Chula Vista and unincorporated San Diego County.
Sunroad Enterprises of San Diego last year partnered with Majestic Realty Co. for development of a three-building industrial park in Otay Mesa that will have a total of 227,000 square feet.
Most of the new development has been industrial and residential, although Chesnut Properties is expecting to break ground this summer on the first 150,000 square foot building in a 1.4 million square-foot office park at the eastern edge of Chula Vista its Millenia Office project.
For Chula Vista, the planned $1 billion bayfront hotel and convention center is expected to spark a variety of related construction for businesses involved in the construction and operation of the long-awaited development.