NO NEW TREATMENTS FOR TARGETED CONDITION IN MORE THAN A DECADE
Promising Results Boost Share Price of La Jolla Pharma
Sunday, June 16, 2019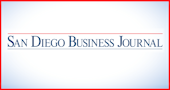 La Jolla Pharmaceutical's stock recently jumped after its drug candidate for regulating iron overload showed promise in preliminary clinical trial results.

In an interim analysis of phase 2 clinical trial, LJPC-401 had a statistically significant impact on hereditary hemochromatosis, a disorder causing the body to absorb too much iron. This can damage tissues and organs.
The update on LJPC-401 was released June 6, with full results due in the second half of the year.
"The robustness of this early readout supporting further development of LJPC-401 is very encouraging," said Jeff Vacirca, chief of clinical research at New York Cancer & Blood Specialists and an investigator in the study. "There have been no new treatment modalities introduced for patients with hereditary hemochromatosis in more than a decade."
The interim clinical data included 26 patients, a dozen of whom received injections of LJPC-401, over 16 weeks. The drug candidate reduced levels of transferrin saturation, a measure of iron levels in the body.
Despite the small patient pool, La Jolla Pharmaceutical's stock more than doubled the day after the
announcement.
On June 11 it fell slightly to close at $10.62.
"We have discussed this morning's data with management and are encouraged by the interim analysis as we think it provides proof of concept," said analyst Phil Nadeau with Cowen, in a research note.
Nadeau and team's models suggest that hereditary hemochromatosis is a $375 million market opportunity.
LJPC-401 is also undergoing phase 2 clinical testing for a blood disease called beta-thalassemia. Nadeau said the recent data boosts the drug candidate's chance of success in this indication as well.
He added data so far on LJPC-401's safety is limited. According to the company, injection site reactions occurred in 79% of treated patients, though they were mild to moderate.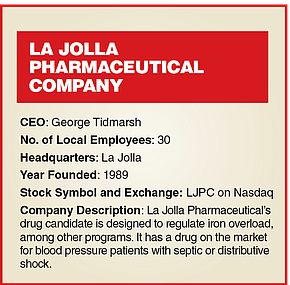 "A better understanding of the injection site reactions in particular is necessary," said Nadeau. "LJPC-401's successful development depends on its ability to demonstrate that its efficacy doesn't come at the expense of long-term toxicity, most notably, iron deposition in organ tissue. "Nonetheless, the data in today's press release suggest an acceptable safety profile."
La Jolla Pharmaceutical is also developing LJPC-0118, a potential severe malaria treatment that recently received a breakthrough therapy designation for an eased regulatory path. Also in the hopper: vasodilatory shock candidate LJPC-501.
The company's stock plummeted last year after disappointing sales of its drug giapreza for blood pressure patients with septic or distributive shock.
But its low point came nine years ago, when La Jolla Pharmaceutical was on the brink of going under, only to make a comeback on positive clinical trial data. The company formed in 1989.