KEARNY MESA COMPANY EXECUTES ON ITS $540M DEAL
Cubic Corp. Rolls Out New Tech Under Manhattan's Streets
Thursday, June 13, 2019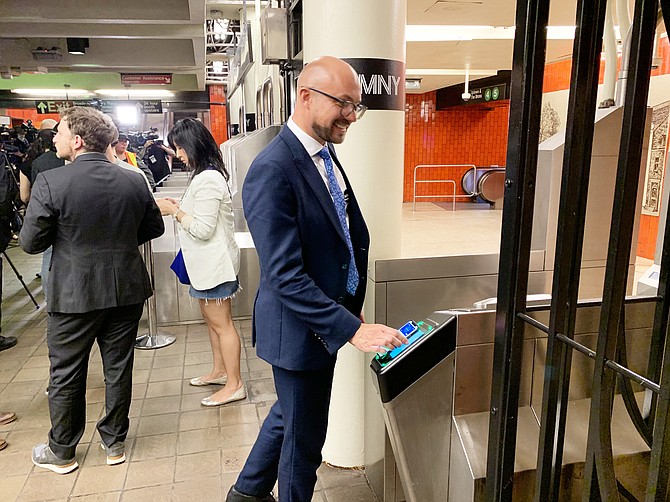 Talk about a tough environment for rolling out new technology.
Cubic Corp. introduced its next-generation fare collection technology on the subway beneath Lexington Avenue in New York City on May 31.
The new system, called OMNY, lets a commuter pay for a ride using a mobile phone or a bank card (credit or debit) equipped with a radio chip.
No separate fare card issued by a transit agency is necessary.
Cubic has provided the same technology to London's transit system in the United Kingdom.
The New York Metropolitan Transportation Authority issued the $540 million contract for the new fare collection system in October 2017. With options, the deal could be worth as much as $573 million. The deal has provisions stretching over six to 10 years.
The 18 month turnaround was a very fast schedule, said Matt Cole, president of Cubic's transportation business.
"It's a major, major proof point of our execution," Cole said.
In New York, the new technology is available in 16 stations on a single subway line between Grand Central Terminal in Manhattan and the Atlantic Avenue/Barclays Center stop in Brooklyn. It also rolled out on Staten Island buses. Some 10,000 people used the technology in the first weekend it was available, Cole said.
Cubic (NYSE: CUB) worked with Apple Inc. to enable Apple Pay Express Transit on the OMNY system. Commuters have only to tap their iPhone or Apple Watch to ride the subway. Cubic says it's quick and easy — there is no need to wake the device, double tap, open an app or use Face ID or Touch ID.
Cubic is responsible for the design, integration, supply and implementation of New York's new fare payment system. It's also providing related services — platform hosting, hardware and software maintenance — as well as transition services such as supplemental call center support.
Similar technology is on its way to Los Angeles and the San Francisco Bay Area. Cubic no longer provides fare collection technology to San Diego's transit system.
Earlier in the spring, Apple CEO Tim Cook showed off Cubic technology that lets riders use Apple Watch and iPhone to make payments on Chicago's transit system.
In addition to transit, Cubic has a defense contracting business.