SDBJ INSIDER
At 50, Jazzercise Still In Great Shape
Thursday, June 13, 2019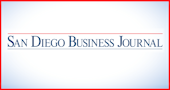 If sitting behind that desk all day has given you that famous body by cubicle, come shake off the cobwebs while experiencing an amazing and inspiring business story.
The Jazzercise "50 Years Strong" Celebration International Convention will take place June 28-29 at the San Diego Convention Center.
Judi Sheppard Missett started a fitness revolution and one of the world's leading dance fitness programs and companies. The Carlsbad-based Jazzercise Inc. has grown to 260 employees, about 8,300 franchises and annual revenues of about $100 million, according to the company. There are franchises in more than 32 countries. Entrepreneur.com said Jazzercise remains one of the most valuable franchises in the world.
Don't forget to check out Sheppard Missett's new book, "Building a Business with a Beat: Leadership Lessons from Jazzercise — an Empire Built on Passion, Purpose and Heart."
The convention, trade show and party are open to the public with 3,000 expected to attend. Be sure to run up those convention center stairs while you're there.
• • •
Bloomberg reports this week that an affiliate of Aberdeen Standard Investments had agreed to buy the Claude "Bud" Lewis Carlsbad Desalination Plant. The plant is the largest of its kind in the Western Hemisphere.
According to Bloomberg, the plant is owned by Orion Water Partners LLC, the joint venture between Stonepeak Infrastructure Partners and Brookfield Infrastructure Partners affiliate Poseidon. Representatives for Aberdeen, Stonepeak, Poseidon and Brookfield all declined to comment.
The plant uses reverse osmosis membrane technology to produce about 50 million gallons of drinking water daily, enough for 400,000 people.
In development, it faced and won several lawsuits on its way to being operational. It is not one of the cheap ways to obtain water, but tide to tap sounds so much better than toilet to tap.
It is easy to forget how dependent our economy is on water. Craft brewing, tourism, manufacturing, life sciences and agriculture are a few key users.
• • •
Petco Animal Supplies Inc. announced Darren MacDonald is joining the company as chief digital and innovation officer.
According to the company, MacDonald will oversee all aspects of the digital business, including e-commerce, the Petco App, prescription fulfillment, and a growing employer wellness benefits offering while driving a focus on new ideas and innovations.
As for retail pet supply companies, disruption can come from any and all directions. Even robotic dogs could one day take a bite out of profits. It will be interesting watching Petco continue to adapt to the changes.