AVERAGE WAGE IS $115,000; ECONOMIC IMPACT PUT AT $39B
Life Sciences Employment Shows Strong Growth
Wednesday, June 12, 2019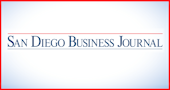 Employment in San Diego's life sciences industry increased 12.5% from 2013 to 2018, states a new report.
Life sciences — which includes drugmakers, research institutions, medical device companies and more — employed more than 65,500 people last year in San Diego County, with research and lab positions making up the bulk of jobs. That's according to a June report from Biocom, a San Diego-based life sciences trade group.
San Diego employees earned an annual average wage of more than $115,000. Adding up the industry's direct, indirect and induced jobs, it contributed more than $39 billion to the local economy, according to the report.
"The region saw the largest growth in the areas of biopharmaceuticals manufacturing, medical devices and diagnostic equipment and research and lab services from 2013 to 2018," according to the report, which predicts regional life sciences will add an additional 7,000 jobs by 2023.
It says the region is teeming with biotech talent.
"San Diego County boasts over three times the national average concentration of biochemists and biophysicists. Exceptionally strong occupation sectors also include microbiologists, biological scientists, medical scientists and biological technicians."
San Diego's medical device sector became more competitive, judging by talent concentration, the report states. While San Diego is known for drug makers and genomics, companies like Dexcom and ResMed have surged in recent years.

Dexcom, for instance, this spring reported $280.5 million in first quarter revenue, a 52% year-over-year increase for the diabetes monitoring company. It has been on an upward trajectory for several years, tapping into growing demand for medical devices and its technology advances.

Medical device jobs in San Diego went from 8,400 in 2013 to 11,700 last year.
But rising competition took a bite out of some San Diego areas. Most significantly, wholesale life sciences declined 31 percent to 4,400 positions during the five-year period. In addition, data indicates the city of San Diego's macro economy hasn't grown as quickly as expected, the report says.
"This likely reflects an increasing number of regional competitors, either traditional or newly emerging, such as North Carolina, the National Capital Region, Illinois, the Pacific Northwest, Massachusetts, and Texas," the report says.
Looking at all of California, the life science industry saw 8% job growth from 2013 to 2018, reaching 428,000 jobs. In addition, the state's $4.2 billion in National Institutes of Health funding ranked as the most in the nation. About $933 million flowed to San Diego County.
In California, life sciences generated more than $346 billion annually in economic activity.
"While growth in California's life science industry has slowed, its impact on the state economy has increased," according to the report.
San Diego's 65,500 life sciences jobs compared with 57,000 in Orange County and 92,000 in Los Angeles County. Among the nine counties that surround the San Francisco Bay, the region employed more than 134,000 people.
"California's life science industry has had not only an enormous impact on human health, but it has also had a widely-felt influence on the economy throughout the entire state," said Christophe Schilling, CEO of Genomatica and chair of Biocom's board.