Semiconductor Startup Atlazo Raises $3.4M Led by Tech Coast Angels
Tuesday, June 11, 2019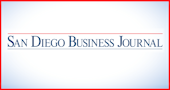 Atlazo, a San Diego startup that makes semiconductors for wearable health devices, raised $3.4 million in funding on June 11. Tech Coast Angels–San Diego led the seed round, with its members providing $2.5 million in funding.
CEO Karim Arabi founded Atlazo in 2016 after serving as vice president of research and development for Qualcomm Inc. The company's semiconductors feature energy-efficient AI and edge computing, which allow information to be processed in-device. The company is currently focusing its efforts on wearable devices and implants.
With the funds from the most recent financing round, Atlazo plans to bring its product to consumers, build the next-generation of the product, and grow its efforts in sales, marketing, and research and development. The startup is currently one of EvoNexus' portfolio companies, and is housed at its offices in UTC.
The $2.5 million in funding also marked a significant milestone for Tech Coast Angels—it was one of the largest initial raises in the angel network's history.
"Atlazo truly had the whole picture – team, tech and traction," Pradeep Mishra, the Tech Coast Angels member who led the round, said in a news release.
Mishra added that he was impressed by Atlazo's executive team, and "…it was absolutely astounding to see how much effort and the significant progress made, without raising external funding."