Evofem Closes $80M in Financing for Contraceptive Gel
Tuesday, June 11, 2019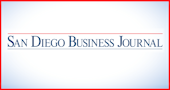 After securing $30 million in a private stock placement in April, Evofem on June 10 closed a second tranche of $50 million.
The investors in the $80 million deal were PDL BioPharma, Invesco Asset Management and Woodford Investment Management.
Later this year, Evofem will ask the U.S. Food and Drug Administration to approve amphora, its contraceptive gel. The gel in stage 3 clinical trials was 98.7 percent effective when used as directed, a rate similar to other birth control methods.
Unlike the birth control pill, the company touts that amphora is hormone-free, something Evofem initially struggled to communicate to male investors. So said CEO Saundra Pelletier in a recent San Diego Business Journal profile of the company.
Evofem broke through after encouraging them to broach the matter with important women in their lives.
"They were shocked. We had so many say to us, 'We had no idea, no one ever told us,'" said Pelletier.
The $80 million would help the company commercialize amphora, assuming FDA approval.
Amphora is also undergoing testing to prevent chlamydia and gonorrhea, with phase 2b clinical trial results due out in the fourth quarter.