USD and Mexico-Based CETYS University to Offer Dual Graduate Degrees
Monday, June 10, 2019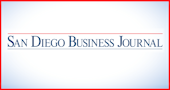 The University of San Diego School of Business has teamed up with Centro de Ensenanza Tecnica Y Superior (CETYS) to offer CETYS University graduate students the opportunity to obtain the USD Master of Science in Global Leadership degree in conjunction with an MBA from CETYS at their campus in Mexicali, Baja California, Mexico. This marks the first time a USD degree is offered and granted outside of United States soil, according to a press release.
"Offering our MSGL degree at CETYS' state-of-the-art campus in Mexicali recognizes the importance of economic and social integration along the U.S.-Mexico border," said James T. Harris III, president of the University of San Diego, via a statement. "USD School of Business students and CETYS students have previously worked together on multiple assignments and consulting projects with a cross-border perspective, and this new collaboration represents the next step in USD's globalization of its educational initiatives."
All courses will be provided in English by USD faculty beginning in July 2019. The program can be completed via part-time or full-time in approximately 24 months.
Travel & hospitality reporter Mariel Concepcion can be reached at mconcepcion@sdbj.com or 858-634-4625.