Sustainable Chemicals Company Genomatica Makes First Acquisition
Monday, June 10, 2019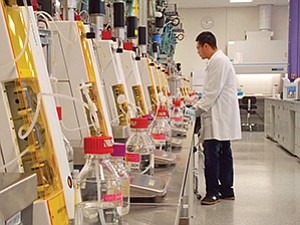 After closing a $90 million funding round in October, San Diego-based chemicals company Genomatica made its first acquisition. The company, which specializes in making plant-based chemicals, acquired assets of Renewable Energy Group Inc.'s life sciences division (REG LS). Ames, Iowa-based Renewable Energy Group is one of the largest suppliers of biofuels in North America.
"Consumer demand for sustainable products continues to grow, and successful companies will increasingly switch to ingredients that reduce harm to the environment and work with partners with shared values," Genomatica CEO Christophe Schilling said in a news release. "This acquisition adds powerful technology and talent to help Genomatica enhance the sustainability of everyday products."
The deal will bring new staff to Genomatica, including Fernando Sanchez-Riera, the former vice president of research and development for REG LS. Genomatica will also add more than 550 patents to its portfolio, including "long chain" chemicals, which are typically derived from palm oils, vegetable oils or animal fats. The new chemicals would be made from fermented, plant-based sugars or biomass-based feedstocks.
Genomatica said it plans to use the new assets to develop a wider range of sustainable chemicals. Specifically, it plans to expand into household and industrial cleaning products, flavors and fragrances. Genomatica will also continue research started at Renewable Energy Group on advanced biofuels, in conjunction with Clariant and ExxonMobil.