Executive Q & A: James Skeen Jr.
Monday, June 10, 2019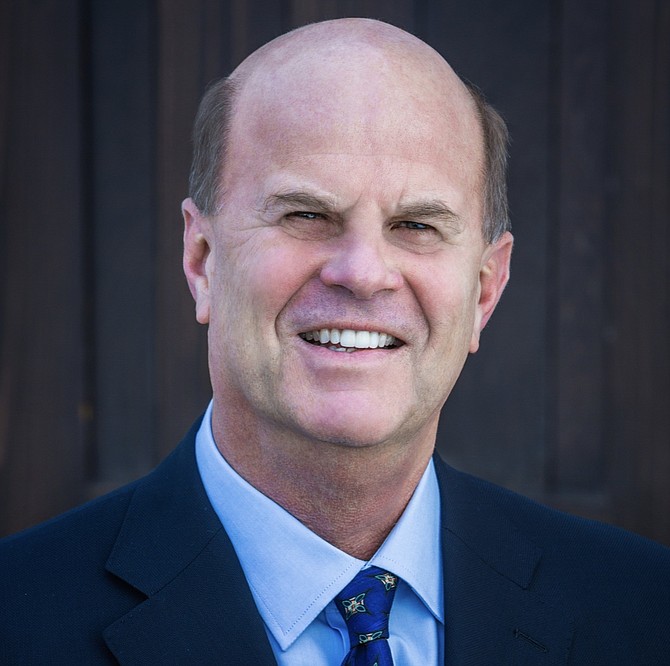 James Skeen Jr.
Founder & Partner, Lockton San Diego
Q: Tell me how you got involved with the FBI, its Citizens Academy and InfraGard.
A: I'm a founding board member of the Cyber Center of Excellence.[The nonprofit organization was created to support the growth of the cyber industry in San Diego, and to promote cybersecurity in the community]. I was made aware of the Citizens Academy.
Citizens Academy is a very interesting extension of the FBI.
Each and every FBI field office hosts a Citizens Academy class on an annual basis. There are 56 field offices in the United States. They reach out into their respective communities. They pull leaders from business, religious, civic and community groups, and stand up a class. Everyone goes through a basic background check. And then for the next six to eight weeks, you go to the Bureau office in your respective cities in the evening for one night a week. For three or so hours, you have the different agents focused in different areas present to you a deeper dive into their world.
Every office has their own investigative priorities, and those are global, national and local. It's a combination of what that city, that office wants to focus on. In San Diego it's things like child pornography, drugs, gangs, human trafficking, white collar crime, organized crime —all made 10 times worse by the internet. The goal is to have us emerge more informed, and by so extensions of that local field office.
Q: When did you go through the Citizens Academy program? A: Three years ago.
Q:Were there any high points of the program? Are there any things that stick out in your mind?
A: I come from a multi-generation law enforcement family so I have tremendous respect for first responders and military. But I met a fellow through the Citizens Academy named John Caruthers. And John Caruthers is what they call a supervisory special agent, an SSA, in charge of their cyber squad in San Diego. I was inspired by how much this one individual was doing in the form of community outreach. In addition to a very busy day job, he was running all over San Diego County, meeting with different groups and educating them about the threat. Cyber risk is real, growing and not going away. I recruited him to the Cyber Center of Excellence board.
Think of the fact that there are 60,000 NYPD employees. And there are only 37,000 FBI in 56 field offices throughout the country, and a presence in 84 countries around the world. So we sat back at the Cyber Center of Excellence and said,"How can we help the FBI at their strategic initiative calledCommunity Engagement? How can the private sector help law enforcement protect us?" So we created the Executive Briefing Series.
And the Executive Briefing Series is this: If you think about information, it falls into two categories. Classified information deals in sources and methods and should only be accessed by individuals with security clearances working on behalf of the U.S. government. Unclassified information deals with things that are called indicators of compromise and motivation.
So we took a step back and said, "Well, why don't we create something called the Executive Briefing Series and let's go out and educate the men and women leading businesses in San Diego?"Let's call them the nontechnical C-suite. By that we mean they're not computer scientists. They're not IT experts. So this is a new spoke in the FBI wheel, the Community Engagement wheel.We've added the Executive Briefing Series.
In 2018 we did four in San Diego. In 2019 we will do nine, putting the FBI in front of approximately 1,000 business leaders in our county. We want the nontechnical C-suite to be able to go back to their organizations and have better informed discussions with their own IT departments. We want the nontechnical C-suite to have a link to the FBI — the relationship already in place before something happens — so the response can be quicker and more effective.
The nice thing about the Executive Briefing Series is at each briefing, we talk about the Citizens Academy. We say the Citizens Academy is also designed for the nontechnical C-suite.
Q: InfraGard is another program.
A: InfraGard San Diego is anFBI-affiliated nonprofit. And their mission is to mitigate criminal and terrorist threats, risks and losses for the purpose of protecting our region's critical infrastructure and the American people. So the nice thing about InfraGard is it is free, anybody can join. You do have to go through a background check. And after that, you are given access to not classified information but what is referred to as For Official Use Only, that you are provided but not permitted to share.
InfraGard on a national basis was founded in 1996. There are 80 chapters throughout the U.S. We're very proud to say InfraGard San Diego is well over 2,000 members. It is, we think, the best-run chapter in the country. We have two leaders: Sandy Moul is the president and CEO. Bob Welty is vice president of the chapter.
Q: How would a person get involved with either organization?
A: There's a whole bunch of different ways. They can reach out to John Caruthers or FBI Special Agent Parker Scott here in San Diego. They can reach out to me. They can reach out to Sandy or Bob at InfraGard. But John Caruthers is the senior SSA, supervisory special agent, in charge of Community Engagement.
Q: Could you discuss the threat we face and what these organizations collectively might do to counter that threat?
A: Sure. The threat of cybersecurity is real, not going away and it's growing. There has been a convergence between cybersecurity and counterintelligence. Counterintelligence deals with nation-states attacking the United States through cyber. And the four big names that come to mind are China, Russia, North Korea and Iran. Most of the attention is focused on China, followed by Russia. So the challenge that we all face is the threat of cybersecurity is pervasive — it is now crossing the spectrum of every type of business. It could be for profit or not for profit.
In health care, the big threat becomes patient information, or people getting in and disrupting medical devices at a hospital. Another type of business may be concerned with their intellectual property being stolen. Manufacturersmight be concerned that somebody could step in, hack their systems and shake them down demanding ransom, which is basically extortion:"We're shutting you down for X-amount of money."The next most common thing is called business email compromise, BEC, where very smart people send emails to businesses, impersonating executives, trying to get employees to falsely send funds to one party or another.
Q: Let's close on a positive note. What can people do to mitigate this threat?
A: The great news is there's an awful lot that businesses, their employees, and we as individual citizens can do right now to protect ourselves — by simply becoming alittle more educated, a little less trusting, a little more diligent about what we open from other parties, how we handle our own information, whether it's email, whether it's banking, Wi-Fi, all the rest of these things.
The great news is, there's a tremendous amount of benefit from technology. But with technology comes responsibility. And if each of us just increased our own level of accountability, our own level of responsibility, either as an employee for our company or protecting our own information as individuals, there's a tremendous amount that we can do right now with the tools that are available to better protect ourselves from being a victim of cyber theft.
James Skeen Jr. is founder and partner of Lockton San Diego. He is the founding president of Lockton's San Diego office and serves on the Pacific operation's executive committee, focusing on client service.
Skeen joined Lockton to start its San Diego operations in 2002. The team now includes more than 75 associates.
In addition to his duties at Lockton, Skeen was a founding board member of CommNexus (now EvoNexus) as well as the Cyber Center of Excellence. He works closely with the FBI educating businesses on cyber risk. He is a member of the San Diego CISO Roundtable and executive mentor to The Honor Foundation which serves members of U.S. Special Operations Forces in transition.