La Jolla Pharmaceutical Surges on Interim Clinical Trial Data
Sunday, June 9, 2019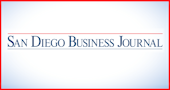 La Jolla Pharmaceutical's drug candidate for regulating iron overload showed promise in interim clinical trial data, sending the company's stock soaring.
An interim analysis of a phase 2 clinical trial showed LJPC-401 had a statistically significant impact on hereditary hemochromatosis, a disorder causing the body to absorb too much iron. This can damage tissues and organs.
"The robustness of this early readout supporting further development of LJPC-401 is very encouraging," said Jeff Vacirca, chief of clinical research at New York Cancer & Blood Specialists and an investigator in the study, in a news release. "There have been no new treatment modalities introduced for patients with hereditary hemochromatosis in more than a decade."
The interim clinical data included 26 patients, a dozen of which received LJPC-401 injections. Injection site reactions occurred in 79% of treated patients, though they were mild to moderate, according to the company.
Despite the small patient pool, La Jolla Pharmaceutical's stock jumped on the news. Shares more than doubled over two days, closing at $12.86 on June 7.

Topline results are due out in the second half of the year.