TRADE: PREPARATION IS DIFFICULT; LONG-TERM DAMAGE IS LIKELY
Business Climate Stability May Be Rocked by Tariff
Originally published June 9, 2019 at 12:58 p.m., updated June 10, 2019 at 8:44 a.m.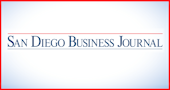 Note: Two days after this article was written, the evening of June 8, the U.S. and Mexico struck a trade deal that would put potential tariffs on hold. The countries would revisit the deal after 90 days. Mexico's Congress would need to ratify another portion of the deal, President Donald Trump said on Monday, June 10.
Billions of dollars of products travel every year by truck, ship and plane from Baja California, Mexico to San Diego. Most of those goods make their way through customs brokers, which help companies navigate the complex process of importing their goods across the border. Starting on Monday, it's likely to get a lot more complicated.
President Donald Trump's proposed 5% tariff on products imported from Mexico is set to go into effect on June 10. That amounts to a significant uptick in duties on Monday, it's likely to get a lot more complicated.
President Donald Trump's proposed 5% tariff on products imported from Mexico is set to go into effect on June 10. That amounts to a significant uptick in duties.
Eduardo Acosta, vice president of RL Jones Customhouse Brokers Inc., is preparing for the worst. His company is headquartered in San Diego, and has offices at all of the major ports of entry between the U.S. and Mexico. Some of its clients include the maquiladoras that produce auto parts, electronics, and other goods, and the vegetable and fruit producers throughout the region.
At the Otay Mesa Port of Entry, which bridges Tijuana and east San Diego County, Acosta expects between $100 million and $125 million in duties will be owed at the port each month, based on customs data. At the Laredo Port of Entry in Texas, Acosta estimated there will be three times as much in duties.
$400M to $500M in Duties
"It brings up the cost of doing business immediately," Acosta said. "We're looking at $400 (million) to $500 million in duties coming across the border. Nobody can absorb that."
Companies straddling the border between San Diego and Tijuana have been scrambling to prepare; Trump announced the proposed tariffs on May 30, with the possibility of monthly increases all the way up to 25% by October.
Trump says the tariffs will end if Mexico stops the flow of migrants through the country into the U.S., though it's unclear how this would be accomplished.
The tariffs would have an immediate impact on manufacturers and customs brokers in the area, but could have broader implications for the Cali-Baja region, which collectively exports $24.3 billion in goods and services annually.
Scrambling to Prepare
"Talking to customs, they are aware of the challenge that this would create. It's almost not doable," Acosta said. "Here we are trying to scramble on something that's not official, that no one has given us any direction on."
Since he heard the news about the tariffs, Acosta has had all hands on deck. He has also been instructing importers to set up accounts with the U.S. Customs and Border Protection's automated clearinghouse, so they can pay duties directly to CBP, but this process can take weeks.
For the manufacturers, the changes will be implemented too quickly to be able to dodge the tariffs by importing everything now.
"You cannot change your supply chain in five days to instead of making 100 cars to making 1,000 cars," he said. "My hope is that reason will win out and this will be postponed, or completely wiped off the table."
A Break in the Supply Chain
Paola Avila, vice president of international business affairs for the San Diego Regional Chamber of Commerce, said her phone began ringing late Thursday, shortly after the tariffs were announced.
"Companies are terrified," she said. "This (policy) hurts every single industry, every single product. It's hard to grasp."
Last year, California imported $44 billion in goods from mexico. San Diego and Imperial Counties import roughly $4.1 billion in products annually from the neighboring state of Baja California. The tariffs would add roughly $17 million per month to the cost of goods San Diego imports, Avila said.
Currently, the largest imports from Baja California to San Diego include electronics, TVs, speakers, computer equipment, semiconductors and automobiles. But not every component of those products is made in Mexico. For example, popular imported beer brands, such as Dos Equis and Modelo, are made with barley and hops grown in the U.S.
"That's how products are made — little pieces from everywhere that are then put together," Avila said. "The TV that you imported from Mexico, 40 percent of it was made in the U.S."
The proposed tariffs already had an immediate effect on both the U.S. and Mexico economies. The value of the peso declined by 2.5 percent on May 31 and the Dow Jones industrial average dropped 1.4 percent.

"Anything that has an impact across the border is going to impact us," Avila said. "We're reducing purchasing power from our number one consumer market. The local impact is severe. It's severe nationally, but certainly locally, because we're interconnected."
'New NAFTA'
The tariffs could also have broader political implications for business in the San Diego area. The U.S., Canada and Mexico had been aiming to sign the "new NAFTA," or the USMCA, by the end of the month.
Avila is most concerned about how that could lead to a chilling of local government relationships, which can affect everything from building a new port of entry in East Otay Mesa to managing traffic flowing across the border to dealing with sewage spills.
"It really puts into question the binational products we're working on and our overall relationship, which for San Diego is critical," she said.
Medium Term Damage?
While companies have protested the large upfront cost of the tariffs, Melissa Floca, associate director of UC San Diego's Center for U.S.-Mexican Studies, is more concerned about the long-term consequences to San Diego's competitiveness as a region.
"All of what's happening now makes me worry very much about the long-term competitiveness of our jobs," she said. "There are lots of short-term consequences, and there will be lots of people who raise their voices in the U.S. My concern is whether it happens or not, it increases the risk of whether investors and companies will invest here over the medium term. When the president says these kinds of things, it immediately scores political points with some constituents, and it immediately does economic damage."
Impact on Manufacturing
Currently, medical device maker Thermo Fisher Scientific, consumer electronics company Samsung, and a host of other large industries have software and manufacturing operations on both sides of the border. Manufacturing also accounts for more than 110,000 jobs in the area, according to the San Diego Regional Economic Development Corp. That could change if companies decided to do business elsewhere.
"That's not because San Diego is an amazing place on its own to manufacture. It's because we're located on the Pacific Coast right next to Mexico," Floca said. "It's a huge risk. We have very high real estate costs, lots of traffic and high salaries. … (Advanced manufacturers) are here because of our geographic location and access to global trade networks. It makes the city economically competitive and is an important source of innovation."