PHARMA: ANALYST SAYS MAIN TARGETS MUST BE HIT
Tocagen Confident in Clinical Trial for Cancer Drug
Thursday, June 6, 2019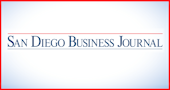 Tocagen recently reported that a clinical trial of its brain cancer drug candidate will continue after an interim analysis. Afterward,its stock fell sharply, but company analysts were still mostly optimistic that the San Diego drug maker will deliver.
The company developed Toca 511 and Toca FC, a combo therapy for brain tumors undergoing final-stage clinical testing, known as phase 3.
An independent data monitoring committee conducted an interim analysis and said the clinical trial should go on, signaling the gene cancer therapy didn't significantly extend survival three-quarters into the trial.
Investors fretted. Tocagen's stock fell about 39 percent May 22. Shares dropped 13% more the following week, closing at $4.22 on May 29.
CEO Marty Duvall said to wait for the final data before judging the trial's outcome. The data is due out in the fourth quarter.
"We reiterate and haven't changed a bit our enthusiasm for the prospects of this trial at the final analysis," he said.
Tocagen says its therapy activates the immune system to fight brain tumors, including glioblastoma. In recent years, glioblastoma deaths notably shook the political landscape, from U.S. Senator John McCain to former Vice President Joe Biden's son Beau Biden.
After promising early clinical trial results, Tocagen's potential treatment in 2017 was accelerated into a pivotal phase 3 trial with 403 participants.
$97.8M IPO in 2017
To fund clinical trials and its pipeline, Tocagen in 2017 raised $97.8 million in an upsized initial public offering.
Fast forwarding,Duvall said analysts were largely positive about the recent announcement, but one's "contrarian view" seemed to gained traction.

The outlier analyst, Daina Graybosch with SVB Leerink, halved the chances of the drug candidate's success to 5 percent following the interim analysis.
The phase 3 trial design expects Toca 511 and Toca FC patients will live a median of 14.3 months, versus a control group on chemotherapy living a median of 9.8 months. That's the main goal, or primary endpoint in biotech parlance.
"A great outcome is more likely to show itself early," Graybosch said, adding the company can't count on other data to win over the U.S. Food and Drug Administration.
The agency, Graybosch said, has given the cold shoulder to drug applications that didn't hit their main target in pivotal clinical trials.
Duvall said Graybosch's drug probability model made faulty assumptions. That included not paying enough attention to follow-up patients, which made the clinical trial seem more mature than it actually was.
"It takes a certain amount of time for that (patient) difference to show up," Duvall said.

Analyst Madhu Kumar recommended buying Tocagen's stock.
"Overall, we continue to be bullish on the risk-reward opportunity," Kumar said in a research note, though acknowledged a "reasonable basis for skepticism" given that the combo therapy must show efficacy with only a fraction of the trial left.

Should Tocagen's drug candidate hit the mark, Kumar said it would be the first therapy in 20 years to extend survival of recurrent high-grade glioma, or HGG.
Complete or Partial Treatment Responses
Beyond that goal, the clinical trial is shooting for complete or partial treatment responses lasting at least 24 weeks in post-surgery settings.

With a lack of brain cancer treatments, analysts say regulators weighing approval may consider secondary outcomes or data beyond the phase 3 clinical trial.
Cantor Fitzgerald analyst Elemer Piros noted that six patients in a phase 1 trial of Tocagen's drug candidate were alive three years after treatment. In addition, 22 out of 23 patients in a phase 1/2 clinical trial experienced greater median survival than the status quo.

"We believe secondary endpoints, if positive, could support an argument for approval," Piros said.
Making the case that investors should refrain from final judgments, Evercore ISI analyst Jonathan Miller said: "I'm inclined to agree to with [Tocagen management] when they say, 'time is our friend.'"
Self-Commercialize
With Tocagen heading for a final data readout, the company is building up its commercial infrastructure. It's part of a small but growing number of San Diego biotechs planning to self-commercialize their drugs in the U.S.
Duvall said the company decided to do so because it could reach prescribers with a relatively small sales force. But outside the country, the company has sought partnerships.

Under a deal announced last year, Chinese firm ApolloBio took over development and potential commercialization of Tocagen's combo therapy.
In addition, Tocagen is working on pricing and reimbursement, with nothing concrete in those areas yet.
Combo Therapy
Tocagen says the combo therapy delivers therapeutic genes into the DNA of cancer cells. Toca 511 and Toca FC are aimed at recurrent patients who didn't respond to other treatments like surgery or radiation.
But the therapy could be expanded to newly diagnosed patients. A clinical trial will gauge the efficacy of Toca 511 and Toca FC in this population. Last November, NRG Oncology, a member of the National Cancer Institute, announced it would sponsor and conduct the clinical trial.
"Our plans in the newly diagnosed setting have also accelerated very significantly based on that selection," Duvall said.
But in the short term, all eyes are on fourth quarter clinical trial results.