PRODUCT GIVES WHEELCHAIRS ACCESS THROUGH THE SAND
Company Puts Beach in Most People's Reach
Thursday, June 6, 2019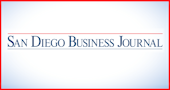 A San Diego entrepreneur is developing a solution to help adaptive surfers and other outdoors enthusiasts navigate bumpy surfaces, where wheelchairs often sink. Kelly Twichel, an occupational therapist, founded Access Trax last February. The company makes portable surfaces that can be unfolded across the sand, allowing wheelchairs and strollers to reach the hard-packed sand near the ocean.
"The ultimate goal is to have that independence," Twichel said. "Think of a person who just had a spinal cord injury and they were a surfer for 20 years. All of a sudden, they're being told by just the barriers in the environment that now you can't get there (to the ocean)."
Twichel came up with the idea for her company while studying occupational therapy at the University of St. Augustine for Health Sciences in San Marcos. A professor there challenged her and her co-founder, Eric Packard, to build a device that could help adaptive surfers.
"The opportunity, once it presented itself, I did not hesitate for a second," she said. "It is so motivating to know that I can help change people's lives, which is what I set out to do as a therapist, but instead of one client at a time, now, I can help many more people at once."
Currently, there aren't many options for wheelchair users to cross the sand independently. Roughly nine beaches in San Diego have existing beach mat pathways, but they require daily maintenance and can't extend beyond the high tide mark. Beach wheelchairs can be rented, but they're bulky and heavy, so another person is needed to help push the chair. Other specialized wheelchairs cost tens of thousands of dollars.
Twichel and Packard fashioned their first prototype by connecting aluminum rain gutter covers with zip ties, making a track for wheelchairs to cross the sand. Though it was a little rough around the edges, they tested it at a surf event that included competition between five adaptive surfers. It worked.

"The surfers were asking, where's the rest of this? We need more of these in our lives," Twichel said. "At that moment, the very first time we tried it out, we knew we had something that could change people's lives and help them be more independent."
Since then, Twichel has developed a more polished product, Beach Trax, that consists of connected foldable plastic panels with a carrying handle. She partners with a local manufacturer to produce them. They sell in sets of 10 connected panels for $650, and Twichel also offers them for rent to vacationers in San Diego.
Access Trax also brought on a new business partner, Julian Meer, in April. The company has sold its products in Japan, Canada and Mexico, and partners with the Stoke for Life Foundation in Oceanside. Twichel said Stoke For Life founder Charles Webb was one of the first people to test Access Trax's prototype when they were still in university.
"He saw it go from a handmade prototype to what it is today," she said. "He's been great in referring us to other people and nonprofits that might benefit from it."
The startup's products will also be used at the Switchfoot Bro-Am surf competition in Encinitas. Access Trax is also a finalist to win a $25,000 Amber Grant through WomensNet.
Most recently, Access Trax was accepted into a new incubator program in San Diego, Connect All at the Jacobs Center. The program, offered through a partnership between Connect, the Jacobs Center for Neighborhood Innovation, and the City of San Diego, offers startups office space and resources in exchange for them creating jobs in low-and-moderate income neighborhoods.

Access Trax was selected from more than 60 applicants for the incubator, which provides office space and resources for startups. Startups meet weekly for the six-month program, where they focus on different topics, including customer discovery, building a business model, and obtaining grants and funding.
"I've been blown away by the entrepreneurs, their dedication and their vision," said Alex Waters, Director of Connect All at the Jacobs Center. "They're excited about helping each other. This is about building something collectively."
Waters said the program was designed to develop companies that will stay and grow in San Diego.
"How do we build the fundamentals for them to be here for a long time?" he said. "It's really about that sustainability."
Twichel said she was looking forward to the rest of the program, and hopes to be able to scale up her business in the future. In the long-term, her dream is to be able to someday serve as a sponsor for the Paralympic Games.
"This is going to really be able to help me scale the company and be able to hire employees," Twichel said. "That really motivates me, to know my company can not only help other people, but also be able to help others through employment."