Settleman to Head Pfizer's Oncology R&D Out of La Jolla site
Wednesday, June 5, 2019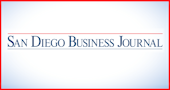 Jeff Settleman on June 5 was named Pfizer's group head of oncology and research development.
As part of the role he'll oversee Pfizer's La Jolla research and development hub, which has 800 employees.
Settleman is joining from Calico Life Sciences, where he was a principal investigator and head of oncology research. Prior to this, he led discovery oncology at Genentech.
He starts the new role July 1, replacing Robert Abraham, who announced plans to retire at the end of 2019.