Leadership Test Is on Menu at Jack in the Box
Monday, June 3, 2019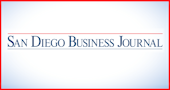 Jack in the Box CEO Lenny Comma must have had dreams of driving up to a fast-food window and the cashier asking if he wants strategic alternatives with that burger. Well, things have sorted out at San Diego-based Jack in the Box. For now, the company won't be selling. Despite problems with some franchisees—Michael Norwich, chairman of the National Franchise Association is still calling for Comma to step down — and other concerns, Comma seems ready for a fresh start.
Last week, Jack added two new directors, Jean M. Birch and John P. Gainor to its board.
• • •
President not on board with carrier catapult?
It must be a headache for General Atomics CEO Neal Blue to have the president second-guessing your defense contract.
According to several media reports, President Donald Trump still doesn't like General Atomics futuristic electromagnetic aircraft catapults, which will launch warplanes from U.S. Navy carriers at sea. Trump reportedly said the catapults had yet to be tested under the stress of battle, and he complained about their expense.
He praised the technology that launches planes from most carrier decks today — steam catapults.
Trump made similar comments in 2017. He reiterated his bad review during a May 28 visit to sailors and U.S. Marines in Japan.
GA's new technology is called EMALS, short for electromagnetic aircraft launch system. The system is best described as a linear motor, similar to what's used to propel cars on certain roller coasters.The technology is so new that it's still being developed.
Collectively, the EMALS contracts are worth billions of dollars.
The Navy says it's sold on the technology, calling it versatile enough to launch a light aircraft and a heavy aircraft in succession.
• • •
"To Everything there is a season…" so goes the song and the verse. A song agricultural biotech Cibus might not be able to get out of its head as it cancels a planned $100 million IPO. Peter Beetham is founder and CEO of the company.
• • •
You never know where your next business opportunity may come from.
If you're selling energy and Saudi Arabia is your sales territory, you may think it is not worth getting out of bed in the morning. However, Sempra Energy—under the leadership of CEO and Chairman Jeffrey Martin—may prove you wrong. The San Diego-based company is working on a deal with Saudi Arabian oil company, Saudi Aramco, for a 20 year contract to sell liquefied natural gas (LNG) as well as a stake in a planned LNG facility in Port Arthur, Texas.