Startup Making Smart Car Alarms Moves into New Office in East Village
Sunday, June 2, 2019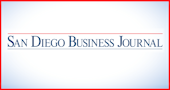 Bmmpr, a San Diego startup that makes smart car alarms, is moving into a new headquarters downtown. The company was first founded in 2017 in San Marcos by CEO Marko Mandaric. It is moving into a 1,500-square-foot office at the I.D.E.A. District in East Village.
The new space will allow the company to grow, and will serve as its hub for programming, packaging and shipping. Bmmpr's five-person leadership team will be based out of the historic office building in the district, the Ratner.

Bmmpr's devices are plugged into the diagnostics port under a car's dashboard, where they can send users a text if their car has been disturbed. It includes a GPS feature for users to be able to locate their vehicles, and can detect break-ins, the company says.
To date, Bmmpr has raised $52,529 through an Indiegogo campaign.