San Ysidro Health Moving Toward Acquiring Mountain Health
Sunday, June 2, 2019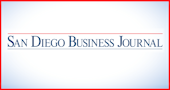 San Ysidro Health has taken steps to acquire Mountain Health, another nonprofit that provides health care services to low-income San Diegans.
A deal would allow San Ysidro Health to expand its services to East County, where Mountain Health has a heavy footprint.
In April, Mountain Health's board agreed to seek partnership or acquisition proposals. The board recently approved San Ysidro's consolidation outline. Financial terms are being discussed, according to Vernita Todd, vice president and chief strategy officer of San Ysidro Health.
San Ysidro is testing the waters by assuming administrative duties at Mountain Health, while also conducting additional due diligence. Regulators would have to sign off on consolidation.
Todd said San Ysidro Health would bring scale and an expanded provider network for added services in East County. In addition, the organizations say the deal would strengthen advocacy at the state and national levels.
San Ysidro operates 34 sites, including medical clinics, dental clinics, behavioral health centers, HIV centers and more. It serves about 97,000 patients annually, about 12 times more than Mountain Health.

Mountain Health opened its first clinic in Campo in 1974, followed by clinics in Jacumba, Community Heights, Alpine, Escondido and Santee.