SDSU Grad's Education Software Startup Raises $5M
Wednesday, July 31, 2019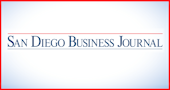 CourseKey, a startup founded at San Diego State University, closed a $5 million series A round on July 30. CEO Luke Sophinos started the education software company when he was still an undergraduate student at SDSU, with the goal of making it easier for students and professors to communicate. Now, his former professors use the software to take attendance and build quizzes for their classes.
Sophinos kick-started his business with a $100,000 grant from the Thiel Foundation. Now, with the additional $5 million investment, he plans to build out CourseKey's team. In a blog post, Sophinos said he had recently hired Natasha Conahan, a former executive of the NTI Group, which was acquired by Blackboard, to lead CourseKey's customer success team. The company also hired Alan Hensley, a former vice president at Pearson Education, as its new head of sales.
"We believe we now have the people in place to begin to grow the business into the behemoth that we know it can become," Sophinos wrote in an email.
San Francisco-based Builders VC led CourseKey's recent funding round. The firm was co-founded by Paul Lee and Jim Kim, and recently raised its first fund.
"When Paul and I first connected, he told me their thesis of modernizing antiquated industries. In that moment I knew it was going to be a perfect partnership as this is exactly what we are doing at CourseKey," Sophinos wrote. "I am excited to work with him and the team at Builders to modernize an industry that is still very much dominated by pen and paper processes."
CourseKey also received investments from Ingram Content Group Ventures, Entangled Ventures, Bisk Ventures and Social Starts Limited Partners. Two former Qualcomm executives are also backing the company: former CEO Paul Jacobs and former President Steve Altman.
The company has also built out its advisory board with some notable names, including Andrew Rosen, the co-founder of ubiquitous education software company Blackboard Inc.
CourseKey's software isn't just used at SDSU. The company also has expanded to Brigham Young University, Unitek College and High Desert Medical College, according to its website.