STUDY SOUGHT TO EXPAND DRUG'S INDICATIONS; IT IS ALREADY USED IN PARKINSON'S
Acadia's Stock Drops After Weak Results in Schizophrenia Study
Tuesday, July 30, 2019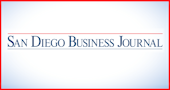 Acadia Pharmaceuticals recently said that its drug failed to improve the overall symptoms of schizophrenia compared with a placebo in a late-stage clinical trial.
On July 22, the San Diego biotech's stock fell 14% on the news, closing at $22.22 a share. One analyst called the market's reaction somewhat overblown, while another lowered their expectation for the stock.
The San Diego biotech said a phase 3 clinical trial with 396 patients in which its drug was added to existing antipsychotic treatment improved symptoms but not enough to achieve statistical significance. Patients enrolled in the trial had experienced an "inadequate response" to existing therapies.
Testing Related Indications
In 2016, the drug, nuplazid, won approval to treat hallucinations and delusions caused by Parkinson's disease. Acadia has sought to expand the drug's use into related indications.
"Unfortunately, we did not achieve a statistically significant reduction in the PANSS total score in this study," said Serge Stankovic, Acadia's president, in a statement.
The Positive and Negative Syndrome Scale, or PANSS, measures the severity of schizophrenia symptoms.
Analyst Cory Kasimov with J.P. Morgan said the steep stock drop was "somewhat overdone," adding a 5% to 10% decline would have been more appropriate.
"The bottom line is that schizophrenia was (not) and is not currently a core component of our Acadia investment thesis," Kasimov said in a July 22 research note.
Kasimov said more important to watch for will be an interim analysis of nuplazid in dementia-related psychosis. Late-stage data is expected to be released later this year.
"Our more constructive view on [dementia-related psychosis] is primarily rooted in the favorable relapse prevention design that we believe enhances the probability of success. Nothing we heard today sways that view, especially given that safety appeared to be fine," Kasimov said.
Nuplazid is also undergoing clinical testing in major depressive disorder and schizophrenia marked by predominantly "negative symptoms."
SVB Leerink cut Acadia's stock target from $21 a share to $18 a share. Analyst Marc Goodman with the firm said the announcement wasn't all that surprising, given mixed data in the midstage clinical trial.
Last August, the U.S. Food and Drug Administration reaffirmed nuplazid after a reexamination that took a toll on Acadia's stock.
Nuplazid is Acadia's only drug on the market.