SDBJ INSIDER: Defeating the Red Light Blues
Monday, July 29, 2019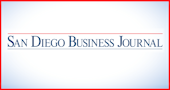 Last night with my valuable cargo in the backseat of the car — a large deluxe Bronx Pizza — I battled the traffic lights and lost, stopping at five of them on El Cajon Boulevard. This got my mind wondering about the current state of traffic management technology.
I was happy to come across some news from Cubic Corp.
The defense and transportation technology company is launching its "latest and most advanced controller software SCOUT, responding to communities demand for more smart intersection technology, functionality and ease of use," the company recently announced.
According to Cubic, "While motorists rarely think about the complex systems that run a traffic signal, the controller is the intelligence behind connected and autonomous vehicle technology, adaptive traffic control systems, vehicle detection, pedestrian crosswalks, emergency vehicle preemption, coordination with transit systems and ultimately mobility through any urban corridor."
I believe the last point is where my pizza fits in.
The company said the SCOUT controller version builds on the past Version 76. SCOUT tackles the increasing complexity of signalized intersection.
"With infrastructure being converted into smart cities, we've doubled our team dedicated to helping agencies accelerate their efforts," said Jeff Cornelius, product development director for Trafficware, Cubic Transportation Systems. "Our goal is to make game-changing advancements that define us as the leader and fuel Cubic's NextCity vision."
---
Peerspace has opened the door of the sharing economy a little wider in San Diego.
The San Francisco-based venue rental service announced its San Diego launch.
The company says it is the "world's largest marketplace for hourly rentals of unique spaces for events, meetings, photoshoots, and media productions…"
Peerspace also provides expert event support.
---
I'm willing to bet that Qualcomm's Patent Wall is a jellyfish free zone. That is not the case at Certified Nutraceuticals Inc. located in Pauma Valley.
The company recently announced the issuance of U.S. Patent Number 10,287,339 B2 awarded for hydrolyzed jellyfish collagen Type I.II.V. – Powder.
This is the longevity breakthrough supplement of the century, said Certified Nutraceuticals' CEO Ahmad Alkayali. CN is planning to market this unique supplement worldwide.
Certified Nutraceuticals says it is a "leader in the development and manufacturing of exclusively processed nutritional ingredients. Sold worldwide to formulators of nutraceuticals and authentic dietary supplements…"