TWO CONTRACTS WORTH $33.8M AND $14.2M
Northrop Grumman to Retrofit Triton Aircraft
Monday, July 29, 2019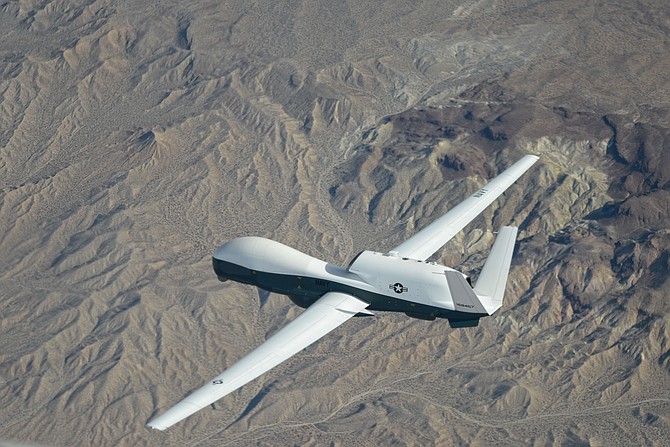 The following are selected defense contracts awarded to San Diego County companies in mid-July. The U.S. Department of Defense releases a digest of contract awards daily at 5 p.m. Eastern Daylight Time.
Northrop Grumman Corp. received a U.S. Navy contract worth $33.8 million to retrofit unmanned Triton aircraft and ground stations to what is called integrated functional capability 4.0. The Triton is similar to Northrop Grumman's Global Hawk aircraft, but it's built for Navy use, with specialized sensors to operate over the ocean as well as other modifications. The program is based in San Diego and some 42 percent of the contract will be performed in the area. An additional contract modification, worth $14.2 million, puts integrated functional capability 4.0 into an unspecified number of low-rate initial production aircraft. Work on the two contracts is expected to be complete by January 2022 and November 2021, respectively. NAVAIR, the Naval Air Systems Command of Patuxent River, Maryland awarded the deals, announced on July 22.
Construction Benefits Coronado Airfield
R.A. Burch Construction Co. Inc. of Ramona received a $17.5 million task order to build a forklift rework facility at Naval Base Coronado. The Pentagon said it needs the facility to relocate existing tenants away from a separate project site area to make a complete and useable airfield facility. Work is expected to run through December 2021. The Naval Facilities Engineering Command Southwest of San Diego received five proposals for the work. It announced the award on July 18.
San Diego Gas & Electric Co. received a $13.5 million task order for energy conservation measures at Marine Corps Air Station Miramar. Work will include light emitting diode retrofits, replacement of cooling towers and water source heat pumps, and installation of variable frequency drives. The project will use the base's reclaimed water source to provide reliability, resource reduction and lower costs. Work will run through December 2020. The Naval Facilities Engineering Command Southwest awarded the deal, announced on July 18. The project will utilize third-party financing through the utility and be amortized over 20 years at an annual rate of 3.123%. Payment will be through an annual utility bill. The total expected cost of the project will be slightly less than $19 million.