FIRM PREDICTS 1% DROP IN S.D. HOUSING PRICES GOING INTO 2020 ON THE WAY
'Great Price Deceleration' Pumps the Brakes on Rising Home Prices
Monday, July 29, 2019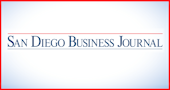 San Diego County's housing market has got a slight case of the doldrums.
Nobody is predicting a freefall in prices, but a housing analyst with a San Diego-based research firm said that based on pricing through June, the region is caught in what she termed "the great price deceleration," meaning that prices continue to rise but at a far slower rate than they had been.
"In most markets, prices are still positive year over year, but the increases are diminishing or slowing," said Kate Seabaugh, a senior research manager with John Burns Real Estate Consulting in La Jolla.
"Prices are still positive, but barely," Seabaugh said. "We think prices will continue to slow."
By year's end and heading into 2020, her firm is projecting that San Diego County housing prices will drop by 1%.
"This is partially due to our view and assumptions about the economy slowing through 2021, tight labor markets making it harder to find workers, risks accumulating in the economy and the length of this economic expansion already being the longest on record," Seabaugh said.
The Greater San Diego Association of Realtors reported that single-family home prices were up 2 percent in June over May.
Still, the association reported that the number of single family home sales in June were down nearly 14% from May, and 16% lower than in June 2018.
San Diego is hardly alone in seeing a slower rise in home prices nor has it had the biggest slowdown in prices.
San Jose Drops 6%
In California, that honor goes to San Jose, which did see resale prices actually drop by 6% after rising 20 percent in 2018 — giving the city a deceleration rate of 26 percent, according to John Burns Real Estate Consulting.
"All the top housing markets have slowed," Seabaugh said. 'It seems as though Northern California markets have softened more than Southern California markets from a pricing perspective."
One reason is that prices had gone up so high, that some people were pushed out of the market.
"Affordability has gotten stretched," Seabaugh said. "We believe that's one of the main reasons the market slowed at the end of last year, especially in some of the Southern California markets where price appreciations had been solid for the last six or seven years and income growth hasn't kept up."
The median sales price for single family homes in San Diego in June was $674,000 — a 3.2 percent increase over 2018, according to the commercial real estate brokerage firm Cushman & Wakefield.
For townhomes and other attached homes, the median price was $445,000 in June, Cushman & Wakefield reported — a 4.8 percent increase over June 2018.