CO. GETS BEER AND WINE LICENSE, HAS SMOOTH OPENING
Breakfast Eatery Adds a Side of Empowerment
Sunday, July 28, 2019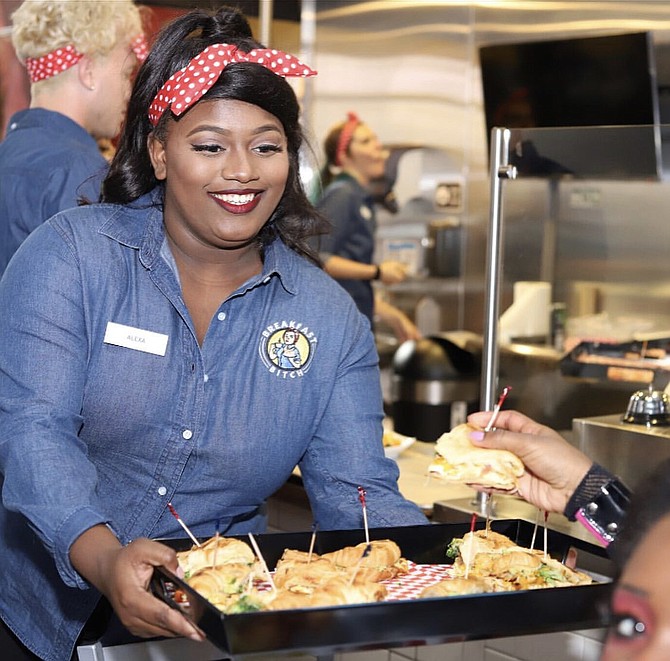 Breakfast B*tch, a breakfast and brunch restaurant located in Hillcrest, may have an expletive in its name, but it appears a little profanity isn't keeping customers away.
"People have loved (the restaurant so far)," said Tracii Hutsona, who co-owns the eatery with husband Derrell Hutsona. She said that, since opening its doors early July, the eatery has seen approximately 80 people on average per weekday and 750 customers on Saturdays and Sundays combined.
Empowering Patrons
According to Tracii Hutsona, the purpose in using the word as a main part of the restaurant's concept isn't to offend anyone. In fact, she hopes to empower patrons, specifically women, through the use of it.
"Our intention is never to offend anyone with the use of the B-word," she said. "Our logo is themed after Rosie the Riveter — it's about empowerment, if anything. It's not about making (the B-word) a bad word. We mean it in the most positive and playful way… Not in a derogatory manner at all."
Hutsona said her staff is trained in using the word in a positive tone and when minors are around, the B-word is replaced with another, more kid-appropriate B-word: babe.
According to Hutsona, so far, she's only seen one review online in which the patron said she didn't like being called the B-word (guests are greeted with a "hey, B*tch!" when they first walk in). That has been the only single incident so far, she said. She added that even when trademarking the name, she ran across very minor issues.
"In our research, there were no trademarks on the word or phrases such as main b*tch, side btch, skinny btch, etc.," she said, adding that she considers food places like Breakfast Republic, Hash House A Go Go, Snooze an AM Eatery and Brian's 24 some of its competitors.
Hutsona, who has owned a Los Angeles-based VIP concierge company with her husband for the last eight years, said the idea for Breakfast Btch came from her close ties to others in the restaurant industry. She said that, a lot of times, they jokingly call their chef friends their 'breakfast btches,' and, that the phrase inspired them to run with the idea of a restaurant by the same name. She also said that her husband, who is originally from San Diego, always wanted to open a restaurant or a lounge, and that she wasn't sold on the idea until the concept for this restaurant came to them.
Even when it came down to launching the restaurant, which took six months to open, Hutsona said things went relatively smooth. Other than facing a few obstacles with permits and having to change the initial location of Gaslamp to Hillcrest, she said they were "fortunate to find a space that we could transfer ownership, including the beer and wine license, so (we) were able to ramp up quickly."
Hutsona said she hopes the reception remains positive. And, if so, she said she and her husband hope to open a location in Las Vegas and another in West Hollywood starting in the next six months and maybe even open another location right here in San Diego.