Ligand Pharmaceuticals Buys Ab Initio Biotherapeutics for $12M
Thursday, July 25, 2019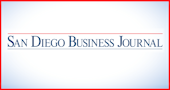 Ligand Pharmaceuticals – a San Diego biotech that helps pharmaceuticals discover and develop medicines – acquired Ab Initio Biotherapeutics for $12 million.
The deal, announced July 24, fleshes out Ligand's ability to discover antibodies against difficult-to-access cellular targets.
And Ligand could eventually reap milestones and tiered royalties through an agreement that San Francisco-based Ab Initio inked with Pfizer. The pharmaceutical tapped Ab Initio for drug discovery efforts centering on G-protein coupled receptors.
Plus, Ab Initio has two preclinical programs targeting hematological malignancies and solid tumors.
Formed in 1987 as Progenx, Ligand initially sought to develop its own drugs but pivoted to licensing its technologies and drug development partnerships.
In January the San Diego Business Journal reported on Ligand's stock drop puzzling the company and most analysts, with a vocal minority questioning the value of Ligand's partnerships.