BUILDING: MEXICAN EATERY IS PART OF PLAN; MIXED-USE ALSO POSSIBLE
Developer Delighted With Ocean Beach Location
Thursday, July 25, 2019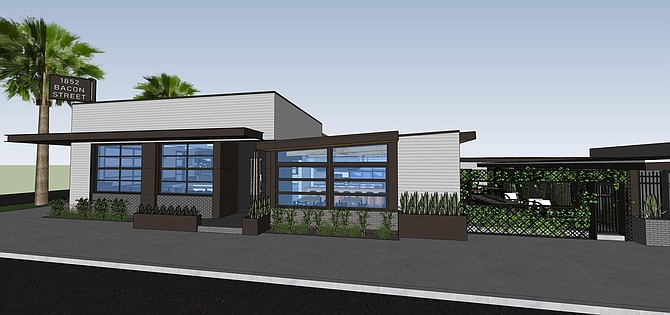 Developer Tim Foley has acquired the rights to develop 27,000 square feet of land in Ocean Beach a block from the Ocean Beach Pier.
Part of that is the site of the former Nati's Mexican Restaurant at 1852 Bacon Ave.
Nati's closed in June 2018 after nearly 60 years in business.
Foley's company, Foley Development, has torn down most of the Nati's building in what he described as "a major remodel."
Two walls were kept, but the rest of the building was gutted and the ceilings were raised from about eight feet to about 17 feet, Foley said.
In its place, Foley is building a new Mexican restaurant, La Dona, run by the Social Syndicate restaurant group headquartered in Ocean Beach.
Possible Hotel?
Plans for the rest of the property are a bit nebulous.
Ideally, Foley said he'd like to build a hotel and apartment complex, but he said that would depend on pending zoning changes in Ocean Beach.
"If we could build the hotel and (apartment) units with retail, that makes the property a home run," Foley said. "A hotel is badly needed in Ocean Beach."
Acquiring the property was a rare opportunity, Foley said.
"I like beach areas," Foley said, adding that "this is a crazy location" within a block of the Ocean Beach Pier.
Some retail shops occupy part of the site, and Foley said he hasn't decided what to do with them.
"My original plan was to tear them down, but we may not need to do that," Foley said.
$1 Million Restaurant
Foley declined to say how much he paid for the property, but said rebuilding the restaurant cost about $1 million.
Social Syndicate signed a 10-year lease for the restaurant, with two options to renew for five years each, Foley said.
Mike Spilky of Location Matters brokered the lease.
Scheduled to be completed in the fall, the new free-standing restaurant at 1852 Bacon St. will have 2,660 square feet of indoor space with a 1,468 square-foot patio.
Tecture Inc. of San Diego designed the interior.

$2.4M Lease
The value of the lease was pegged at $2.4 million by Social Syndicate.
Foley said 11 companies submitted proposals to lease the space. He said he chose Social Syndicate because they have a proven record of running restaurants and they're native to Ocean Beach.
"They're very connected in Ocean Beach," Foley said.
La Dona is collaboration between Social Syndicate's Board of Directors and Ocean Beach operators Hoffman Leung, Mina Desiderio and Matt Braun and Judd Braun, said Brendan Huffman, CEO of Social Syndicate.
Prev Next