TECH: COMPANY RECEIVED $8.5M IN TAX CREDITS FOR THE PROJECT
Cubic Corp. Begins Construction On $100M Headquarters
Thursday, July 25, 2019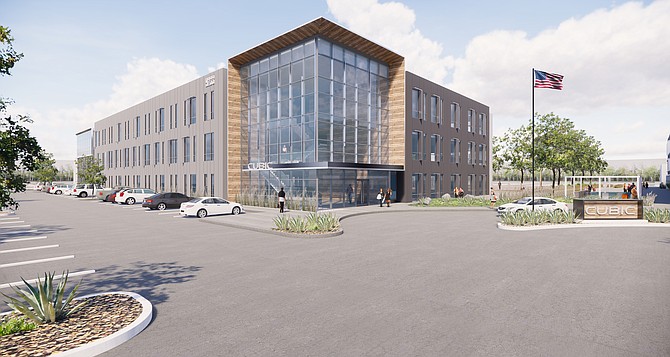 Cubic Corp. has started construction of new corporate headquarters in Kearny Mesa that will consolidate its San Diego operations into one site.
"This is a big deal for our company," Bradley Feldmann, chairman, president and CEO of Cubic, said at recent groundbreaking ceremonies at the 9333 Balboa Ave. site.
"We remain proudly headquartered in San Diego," Feldmann said. "Cubic has been headquartered in San Diego for six decades and we remain very proud of our heritage."
When it opens in December 2020, the new headquarters will be home to about 6,000 workers, Feldmann said.
Cubic, which reported 2018 revenue of $1.2 billion, divides its business between defense contracting and technology for government transportation agencies
'One Cubic'
"Our culture is driven by innovation and a philosophy we refer to as One Cubic, which emphasizes collaboration across our businesses to share ideas, strategies and expertise," Feldmann said. "We are thrilled our new campus will bring together our San Diego employees onto one centralized location where we can continue to achieve excellence through teamwork."
Estimated to cost more than $100 million, the project consists of two 125,000 square-foot buildings.
The new campus will feature collaborative workspaces, a gym, cafeteria, an outdoor terrace for employees, solar power and electric vehicle charging stations.
Cistera Development Co. is the developer with Whiting-Turner Contracting Co. the general contractor and Ware Malcomb as the architect.
California Senate President pro Tempore Toni Atkins, whose district includes the Kearny Mesa site, said at the groundbreaking that Cubic received $8.5 million in tax credits for the project through the California Competes Tax Credit Program.
"We've done very well in this program," Atkins said.
One of Largest Tax Credits in S.D.
The state assistance to Cubic was "one of the largest tax credits in San Diego's history," said Nikia Clarke, executive director of the World Trade Center San Diego.
Cubic in June sold a 21-acre Kearny Mesa property at 5650 and 5660 Kearny Mesa Road to a Dallas-based investment firm for $35 million.
At the time, Cubic said the sale to LPC West was the first step in consolidating its San Diego operations.
LPC West Executive Vice President Brig Black said the company would raze three existing buildings on the site but declined to say what LPC West would build in their place.