PROPERTY: COMPANY INVESTS IN PROMISING SUBMARKETS
Parallel's $50M Buy Is Just the Beginning
Wednesday, July 24, 2019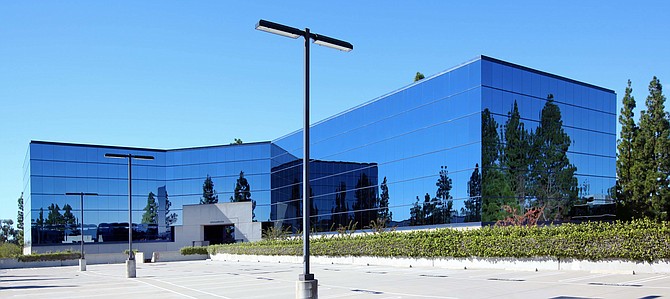 San Diego-based Parallel Partners has acquired a Kearny Mesa office complex — Sky Park Office Plaza — for $50.6 million in the first of what company Principal Matt Root said will be several San Diego acquisitions.
Until now, Parallel Partners has focused primarily on Las Vegas, Hawaii and Phoenix, but Root said San Diego is now ripe for the kind of investment his company seeks — projects in strong employment markets where commercial property values are rising.
"Those are markets that they've probably done very well in. Now, they're capturing some of that wealth and bringing it back to San Diego, which I think is smart business," said Chris Pascale, a vice president with the commercial real estate brokerage firm CBRE. "The dynamics in San Diego are as good as they've been in 30 years."
Of the nearly 4.5 million square feet of office space Parallel Partners owns, only about 450,000 square feet is in San Diego County.
In acquiring Sky Park Office Plaza, Parallel Partners invested in what has been a consistently steady submarket, Pascale said.
Kearny Mesa Benefitting in the Tailwind
"I call it steady Eddie," Pascale said.
Unlike some of the more volatile submarkets where prices rise or fall dramatically depending on the overall economy, Kearny Mesa "maintains a steady up-cycle, in good times and bad," Pascale said.
Kearny Mesa also is benefitting from intense demand for office space in UTC and Del Mar Heights.
"If you think about UTC and Del Mar Heights and downtown, you have buildings going at $600 to $700 a foot and you have rents starting to justify those values. You have markets that are going to benefit in the tailwind of those markets," Root said.
They include Kearny Mesa and Mission Valley, where he said projects sell for about a third of what they do in UTC and Del Mar Heights.
Kearny Mesa has always been one of San Diego's better performing submarkets because of its central location and easy access to multiple freeways.
Sky Park in particular "provides a very attractive yield going in. It's stable in what I consider one of the best infill markets," Root said. "We're working on another deal in Mission Valley right now and another deal on the I-15 corridor."
Root said he wasn't ready to disclose details on pending deals, but said they, too, are in submarkets which he expects to gain interest.
Kearny Mesa at the end of the second quarter of 2019 had an office vacancy rate of 14.4 percent compared with a countywide average of 16.7 percent with rents averaging $3.34 per square foot compared to a countywide average of $3.64 per square foot, according to the commercial real estate brokerage Cushman & Wakefield.
At this point in the economic cycle, some bigger investors are getting skittish and focusing on "gateway cities" like New York and Los Angeles, Root said, creating investment opportunities for companies like his in San Diego and other non-gateway cities.
The Right Conditions
"We look for high quality of life markets, people want to live there, there is strong population growth and not a lot of new product coming," Root said, and San Diego fits the bill with Sky Park Office Plaza a perfect example of what Parallel Partners is seeking.
Built in 1986, Sky Park Office Plaza at 9275 and 9325 Sky Park Court in Kearny Mesa includes two buildings with 203,258 square feet of space on a 5.8 acre site.
Nick Psyllos and Michael Leggett of HFF represented the seller — Blackstone/Equity Office Properties. Parallel Partners represented itself.
The buildings are nearly fully leased with 19 tenants from a wide range of industries. They include Union Bank, Qualcomm, Liberty Mutual Insurance, The Travelers Indemnity Co. and Molina Healthcare.
"I like that diversity," Root said.
Parallel Partners plans to gradually renovate Sky Park into creative office space as leases roll over, with a more open plan replacing conventional office space.
"We've been very focused on the changing face of the workforce and the shifting workforce composition," Root said. "It's really enhancing and amenitizing the workplace."
New Workforce, New Workplace
By 2025, millennials — people now in the mid 20s to late 30s — will account for 75 percent of the workforce, and their expectations of the workplace are far different from their predecessors, Root said.
"They bring new values and expectations and ways of working that are quite different from our generation," Root said. "You can't just have a soul-less office building with a sea of cubes with no amenities. The millennial generation wants to have a workplace experience where they are excited to walk through the door every day. They're a lot different from our generation."
Parallel Partner's shift in focus to San Diego County comes at a time when office property is a particularly hot investment in San Diego County, according to the commercial brokerage firm JLL.
The year started off slow but office sales activity is picking up coming out of the second quarter of 2019, according to a recent JLL report.
The firm said that rents have reached an all-time high and "investor outlook remains upbeat due to positive market fundamentals."
The general economy is strong with record high jobs, adding 25,000 jobs — a 1.7 percent year-over-year increase in May, according to Cushman & Wakefield.
The firm predicted that job growth would grow at 1.3 percent for the full year in 2019 and continue to grow by about 1 percent in 2020.
"Developers have been eager to purchase and redevelop obsolete office or industrial projects in the Central County submarkets to accommodate life science and biotech companies. The existing available supply has been significantly reduced, while tenant demand from this industry sector remains at an all-time-high," Cushman & Wakefield reported.
$525M Deal
In the biggest office sale so far this year, American Assets Trust acquired the 724,000 square-foot La Jolla Commons in UTC for $525 million.
Among notable sales in Kearny Mesa so far this year, Washington Capital Management bought the 129,146 square-foot Spectrum Corporate Plaza for $39.8 million and Fenway Capital Advisors and Waterfall Asset Management bought the 124,463 square-foot Four Points Business Park for $28.2 million.
In North County, RAF Pacifica recently bought a Carlsbad office building for $20.2 million that it is remaking into a combination office/industrial building and just finished building an office building- also in Carlsbad.