RANKS AS ONE OF HIGHEST DEALS FOR SUCH A PROPERTY IN SAN DIEGO
Medical Condo Brings $11.9M In Rare Deal
Tuesday, July 23, 2019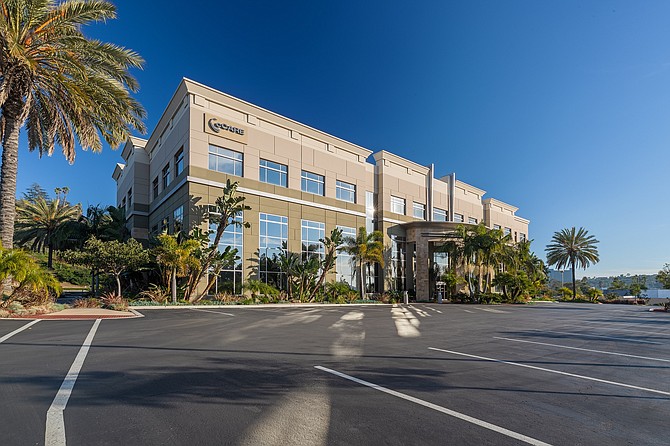 A Maryland real estate investment trust has acquired a San Marcos medical condominium unit for nearly $11.9 million in a transaction that is unusual because of its nature and the size of the deal.
Global Medical REIT of Bethesda, Maryland, bought the 20,230 square-foot condominium space in the 57,333 square-foot Nordahl Medical Centre at 838 Nordahl Road from Newport National Corp. of Carlsbad.
Brokering the sale were Mark Avilla with Cushman & Wakefield's Private Capital Group in San Diego and
Travis Ives of the firm's U.S. Healthcare Capital Markets team.
The space Global Medical bought takes up the entire third floor of the building and is leased to California Cancer Associates For Research & Excellence (cCare).
Rare Deals
Medical office condominium deals are relatively rare in San Diego County and most of them are for $5 million or less, Avilla said.
Investors who are spending as much as Global Medical did in this deal typically want to own the building as opposed to owning part of it as condominium space, Avilla said.
"We did talk to a lot of buyers that were shy about the condominium arrangement," Avilla said.
Since the last recession, developers also have been reluctant to build office space as condominium office space.
When they couldn't sell all the condominium space in a building during the recession, they were stuck with it. They couldn't sell the building as a whole since they had already sold part of it as condominium offices.
"It's what's called a broken condominium," Avilla said.
Tenant Improvements Are Good Sign
In this case, California Cancer Associates spent close to $2 million in tenant improvements, which gave Global Medical reason to think they would be long-term tenants making the property a strong investment, Avilla said.
In general, the market for medical office space has been strong, partly because they offer a reliable list of tenants.
"Physicians tend to sign longer leases and stay in their locations for longer periods of time than typical office teams," Avilla said.
This particular building also was attractive because it's near the Palomar Medical Center.
"When you get closer to hospitals, your demand for medical space increases," Avilla said.
Ives said like most other markets in the U.S., "San Diego's medical office market has experienced years of consistent positive net absorption which has dropped vacancies and pushed rents to all- time highs."
He said the price Global Medical paid "ranks among the highest ever paid for a medical condo investment in San Diego County."
Although not a condominium project, one of the larger medical office sales in San Diego was the $20 million sale of a four-story Kearny Mesa medical building — Coast Medical Center — acquired by Kayne Anderson Real Estate in June 2018.
In December 2018, Harrison Street Real Estate Capital LLC bought a 75,000 square-foot medical office building on the campus of Palomar Medical Center in Escondido for an undisclosed price.