Acadia's Drug for Schizophrenia Falls Short of Expectations
Tuesday, July 23, 2019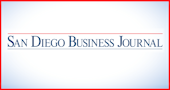 Acadia Pharmaceuticals' drug failed to improve the overall symptoms of schizophrenia compared with a placebo in a late-stage clinical trial.
The San Diego biotech said a phase 3 clinical trial with 396 patients in which its drug was added to existing antipsychotic treatment improved symptoms but not enough to achieve statistical significance. These patients had experienced an "inadequate response" to existing therapies.
In 2016, the drug, nuplazid, won approval to treat hallucinations and delusions caused by Parkinson's disease. Acadia has sought to expand the drug's use into related indications.
"Unfortunately, we did not achieve a statistically significant reduction in the PANSS total score in this study," said Serge Stankovic, Acadia's president, in a statement.
The Positive and Negative Syndrome Scale, or PANSS, measures the severity of schizophrenia symptoms.
Stankovic said the company looks forward to completing a study evaluating nuplazid in another indication: schizophrenia patients with predominant "negative symptoms."
Nuplazid is also being tested in dementia-related psychosis and major depressive disorder.
Acadia's stock fell 14% on the news, closing at $22.22 a share.