REAL ESTATE: DIVERSE BUSINESS MODELS SPUR MIX OF REMOTE, ON-SITE WORK
Technology, Collaboration Influence the Employee's Habitat
Sunday, July 21, 2019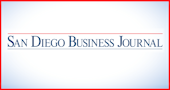 The needs and the abilities of a company workforce are not the same as they were only a few years ago.
So the office is changing, morphing and stretching.
Change is coming to Deloitte, which will soon trade its space in downtown San Diego for 32,000 square feet in a brand new building in the One Paseo development, east of Del Mar. The firm wants to be closer to San Diego's life science cluster, said Ken Weixel, San Diego managing partner.
The new space, which will feature an outdoor terrace, will be home base for 400 employees, though Weixel doesn't envision them being there all at once.
The new space will be similar to a newly opened Deloitte office in Philadelphia, the executive said, reflecting the accounting and business consulting firm's latest thinking on optimizing real estate.
The floor will be geared more toward collaboration. Individual offices will be in short supply.
A person who will be in the San Diego office less than 60 percent of the time won't get a dedicated space, Weixel said. Instead, that person will have to reserve an office for the day, in a manner similar to booking a hotel room. Deloitte employees will use a smartphone app for that task.
Weixel will have his own office, but on those days when he's in the field, the lights won't be out. He said his office will go into the pool for other employees to use.
Rise of the Home Office
Deloitte doesn't need as much space as it might because it has employees working in the field, driving between client meetings and recharging at convenient neighborhood coffee houses.
The remote workforce is another phenomenon that makes for smaller central offices.
NucleusHealth LLC's office is in the northern San Diego community of Sabre Springs. It has 50 to 60 people under its roof, said Dr. Vishal Verma, a physician who is the company's CEO. Its workforce, however, is national.
The company has two businesses. StatRad LLC employs a staff of radiologists who are able to interpret X-rays for clients outside of normal work hours. These 80 employees work out of their homes, and are as far flung as Hawaii and New York.
The other business, Nucleus.io, develops software for medical imaging. It has roughly 30 employees who are as far afield as Pennsylvania, Minnesota and Silicon Valley.
Advances in computers, telecommunications and digital X-ray imaging let the workforce spread out in ways that couldn't be imagined just a few decades ago.
The distributed workforce will let the company scale more easily, Verma said, and that's what he intends to do.
The Satellite Tech Mother Ship
Another big San Diego County employer going into new quarters is Viasat Inc. The satellite services provider is building a sprawling new campus across El Camino Real from its current headquarters in Carlsbad.
Viasat has roughly 2,600 employees, and about 3,000 seats in Carlsbad. Employees are encouraged to stay on campus as they solve very difficult engineering problems, said Bob Rota, the company's vice president of facilities and security.
As a result, Viasat employees generally get their own, room-like offices. Spaces in the brand new buildings might be slightly smaller than those in Viasat's older buildings. Those new-style offices generally cluster together near a "living room" type space where engineers can work together.
The collaborative work spaces are not just inside four walls and under a roof. There are outdoor spaces dedicated to work. Like a lot of Southern California architecture going back a century (or even more), the new Viasat campus blurs the line between indoors and outdoors. Soft seating and large televisions are part of the outdoor amenities, said Rota.
Viasat's new, 23-acre addition also features the amenities tech companies use to keep their employees on campus: sports courts, upscale food service, a gym and more.
Rota said Viasat is also updating its original campus, west of El Camino Real.
As they've pushed boundaries, Viasat has made sure to keep its new buildings flexible. With new technology and changing times, who knows what the workforce of 2030 will want, need or be capable of?