SDBJ INSIDER: S.D. Onboard for Avocado Regatta
Sunday, July 21, 2019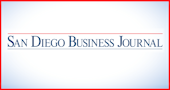 The Insider would like to do a public service and remind you to get outside — after checking with your dermatologist, of course — and enjoy the San Diego summer.
You may have already missed the "first-ever" World Avocado Cup Regatta.
Sponsored by the World Avocado Organization and the San Diego Yacht Club.
The World Avocado Organization represents producers from around the world including Peru, California, South Africa, Colombia, Spain, Portugal, Tanzania, and Mozambique, according to the WAO.
"The San Diego Yacht Club hosted an exceptional event which we hope will be the first of many World Avocado Cup Regattas to come," said Xavier Equihua, CEO of the WAO
There are 3,000 avocado growers in the state, according to the California Avocado Commission. Avocados are the county's fourth most valuable crop, according to the San Diego County Farm Bureau. A 2017 report put the S.D. crop value at $122,190,463.
---
Forget: tennis anyone? Try: tennis everyone. The Carlsbad-based World Team Tennis is courting viewers around the globe. World Team Tennis which recently began its new season announced several international streaming deals.
According to the WTT the deals include, "a dedicated WTT Dailymotion stream, live betting outside North America and China and eight matches that will air throughout the season on tape delay on various regional sports networks.
As for international exposure, "WTT is being broadcast in China for the first time ever through video hosting service Youku, WTT's exclusive media partner in China which will stream all 59 WTT regular season matches via its streaming platform. In Latin America, Claro Sports and its digital brand, MARCA Claro, are airing 17 WTT matches," the WTT said.
"By making the 2019 WTT season as accessible as possible through these varied linear and digital connection points our hope is to share the excitement and inclusive passion team tennis brings out," said WTT CEO Carlos Silva.
The league is owned by IT pioneer Fred Luddy, a ServiceNow founder, and entrepreneur Eric Davidson.
The San Diego Aviators are the home team.
CBS Sports is the television broadcast partner of WTT.