COMPANY. FORECASTS MORE THAN $1 MILLION IN REVENUE FOR 2019
Integrity Bottles Taps Its Niche Market With Amazon's Help
Originally published July 21, 2019 at 2 a.m., updated July 22, 2019 at 9:41 a.m.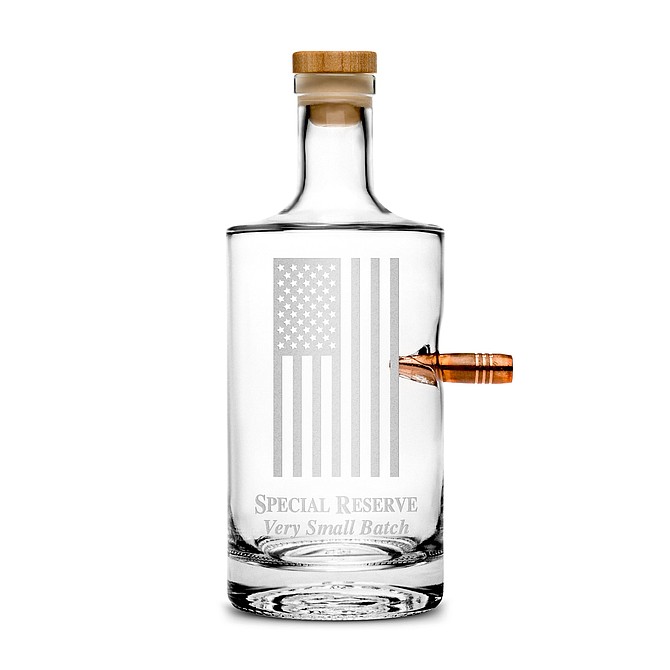 The Navy was where Zachary Lewis launched his military career as a special operator. It was also where he kicked off his side hustle turned main hustle: Integrity Bottles.
A few years ago, when a friend was changing commands, Lewis and his wife, Jamie Lewis, decided to present him with a sand-blasted wine bottle, with the command logo and his name on it, during a farewell gathering. Suspecting the personalized gift would be a hit with the rest of the event's attendees, the Lewises came prepared with a few boxes of additional engraved bottles to sell. By the time the night was over, Lewis and his wife, a former San Diego deputy sheriff, had sold $2,500 worth of the bottles. That's when they knew they had created something special.
Amazon Handmade
Officially launched in 2016, Integrity Bottles, a company that makes etched, sand-carved liquor bottles and glassware that sell for $69 to $129 each, is headquartered in Santee with 15 employees. According to Lewis, the company's revenue in 2018 was $900,000 and in 2019, thanks in large part due to the company now selling on Amazon Handmade, it is projected to reach $1.1 million in revenue.
"We didn't know if our product would fit in, but when Amazon Handmade came about, they took us aboard and showed us, 'this is how we post products, these are the seller's opportunities, these are the fulfillment options for you'," said Lewis, adding that he and his wife self-funded the company and have one partner, a close family friend. After that, "our business doubled in size very fast, year-over-year, since we got on Amazon," he said.
Originally, Lewis admits neither he nor his wife knew how to sandblast and were working with a manufacturer to get the job done. But when the two started to get orders, they took it upon themselves to learn and then eventually purchased their own sandblasting machine, which cost in the $20,000 range, he said.
At first, they were only selling wine bottles with wine in it via in-person transactions, mostly to guys on the military base, said Lewis. But when he got deployed just months after starting the business, Jamie Lewis suggested the two begin selling online, specifically on Etsy, the e-commerce website that focuses on handmade items and small businesses. And, because it was more difficult to ship full wine bottles (you need certain licenses to ship liquor, Lewis said), they decided to start etching wine glasses and sell those instead. Eventually, they opted to focus on etching and selling empty 750ML wine bottles, decanters, wine glasses, whiskey glasses and even stainless-steel water bottles, among other empty liquor bottles and glassware.
Pricing Too Low
When Zachary and Jamie Lewis began selling on Amazon Handmade in January 2017, he said it was hard for them to immediately understand some of the intricacies of selling online. But, once they figured it out through some trial and error, they began to quickly profit.
"In the beginning, we were pricing everything too low," said Lewis. "But, we realized, here is how it works, these are all the fees, all the shipping costs that go into it, and the different pieces to the puzzle. And, we were able to price accordingly. That is when we saw an increase in sales — when we increased the price for online sales, we saw growth." He said that Integrity Bottles sell 20 times more the amount on Amazon than anywhere else online and that the company also sells certain products in Walmart stores.
Lewis said Integrity Bottles sources its wine bottles from American wholesale companies. He said every order is fulfilled in the Santee headquarters, including prepping materials, blasting, cleaning, packing and shipping. He also added that Integrity Bottles uses Amazon's fulfillment option, which is "cheaper and faster" than shipping himself.
Collector's Items
Currently, Integrity Bottles is working on a specialty liquor bottle with a .50 caliber bullet pushed into the side of it, said Lewis, which has been a huge hit in military circles as well as with realtors. The bottle has the American flag etched on the front of it and can be sand-blasted with the soldier's name, rank, date and company, or any other logo, he said. He also said that the company recently opened its retail shop and showroom, located on the front side of the Santee location.