UNMANNED HELICOPTER PASSES THE POINT OF INITIAL OPERATIONAL CAPABILITY
Northrop Grumman Fire Scout Ready to Fight
Friday, July 19, 2019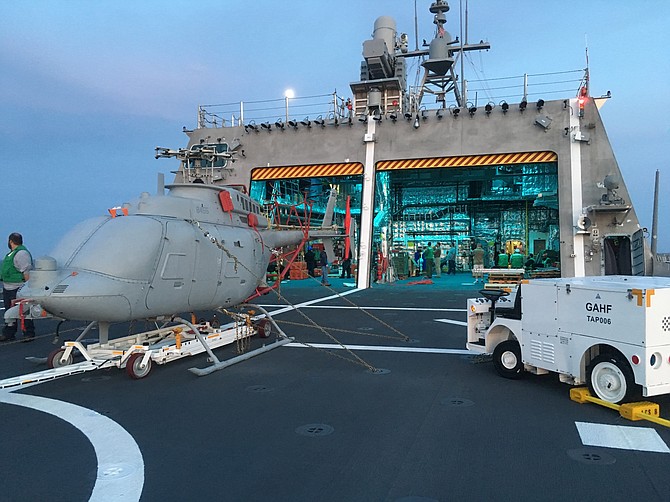 The U.S. Navy has declared that an unmanned helicopter built by Northrop Grumman Corp. is ready for prime time.
Specifically, its MQ-8C Fire Scout has reached the stage of initial operational capability, called IOC in defense jargon. The Navy made the decision June 28 and publicly announced it on July 8. Essentially, the unmanned helicopter can be used in fleet operations and training.
"This milestone is a culmination of several years of hard work and dedication from our joint government and industry team," said Capt. Eric Soderberg, Fire Scout program manager, in a statement issued by the Navy. "We are excited to get this enhanced capability out to the fleet."
The Navy plans to deploy the helicopter at sea with the Littoral Combat Ship in late 2020 or 2021. Its job will be to provide reconnaissance, situational awareness and precision targeting support for ground, air and sea forces.
Fleet of 38 Planned
Northrop Grumman will eventually deliver 38 of the aircraft to the military, according to the Naval Air Systems Command, or NAVAIR. In January, the Navy awarded Northrop Grumman a $55.1 million contract modification to buy five aircraft as well as two lightweight fuel cells. Work on the lot will last through summer 2021.
The Navy said it plans to upgrade the Fire Scout's radar with a model offering a larger field of view as well as a range of digital modes including weather detection, air-to-air targeting and a ground moving target indicator.
The starting point for the aircraft is a Bell 407, a conventional helicopter that can normally seat up to seven people. Northrop Grumman manages the Fire Scout program in San Diego but does the conversion work elsewhere.
150 Nautical Mile Range
There are actually two Fire Scout helicopters. The original model is smaller and is called the MQ-8B. The Navy said it planned to use the smaller aircraft in the Indian Ocean (including the area around the Persian Gulf) as well as the western Pacific Ocean.
The bigger MQ-8C can carry a heavier payload and can stay on station longer than its smaller cousin. The MQ-8C can carry a 300-pound payload and stay in the air up to 12 hours, according to a specification sheet posted on the Navy website. The heaviest payload it can carry is 700 pounds. Its range is 150 nautical miles.
In December 2017, the Navy publicized the Fire Scout's role in successfully delivering a ship-launched Harpoon missile to its target, which was over the horizon from the ship. The event took place during war games in August 2017 in the Philippine Sea.