TORREY PINES CAMPUS HOSTS DEPT. OF ENERGY FUSION WORK
Research Reactor at GA in Demand
Thursday, July 18, 2019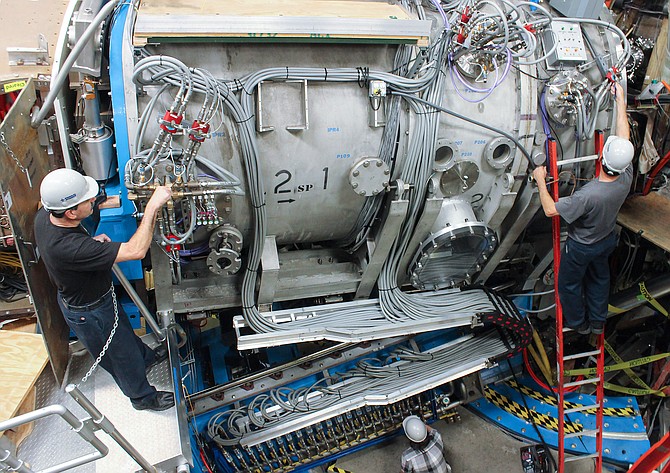 Though its defense contracting businesses get more press, General Atomics was founded on atomic energy. The company still does interesting work in the field.
In an unassuming building in Sorrento Valley, a short distance from UC San Diego, the privately held company operates the DIII-D National Fusion Facility, a specialty reactor owned by the U.S. Department of Energy. There scientists create nuclear fusion.
Conventional nuclear energy — the kind that powers aircraft carriers, the kind in the shuttered San Onofre power plant — comes from splitting atoms. Nuclear fusion, by contrast, seeks to harvest energy from atoms coming together at very high temperatures. Right now it works better on paper than it does in real life, but theoreticians have hopes of making the technology much more efficient.
GA receives federal funds for operating the DIII-D facility, which has played host to 650 users from more than 100 research institutions.
A Doughnut-Shaped Container
To create nuclear fusion, GA generates a plasma that is hotter than the sun. Since nothing physical can stand up to it, the plasma is contained within a powerful magnetic field inside a toroidal-shaped vessel. A torus is like a classic doughnut: shaped like a wheel with the hole in the middle. The magnetic field might be similar to the crusty fried exterior, containing the plasma in the cakelike interior.
That style of reactor is called a tokamak (after a Russian acronym). The cross section of the contemporary tokamak reactor has evolved from an O-shape to something more like a capital letter D.
The research reactor on Torrey Pines Mesa went through an 11-month series of upgrades that concluded in May. Funds for the upgrades were part of a two-year, $40 million deal with the Energy Department.
"These upgrades will provide researchers with several new capabilities, enabling them to explore physics phenomena that are important to making fusion viable," said David Hill, director of the DIII-D user facility, in a prepared statement.
A 50-Ton Addition
The upgrade program included a new steerable neutral beam system weighing more than 50 tons. The device lets researchers vary the angle at which high-energy atoms are injected into the plasma for heating and control. Also installed was new radio equipment, which plays a part in the process.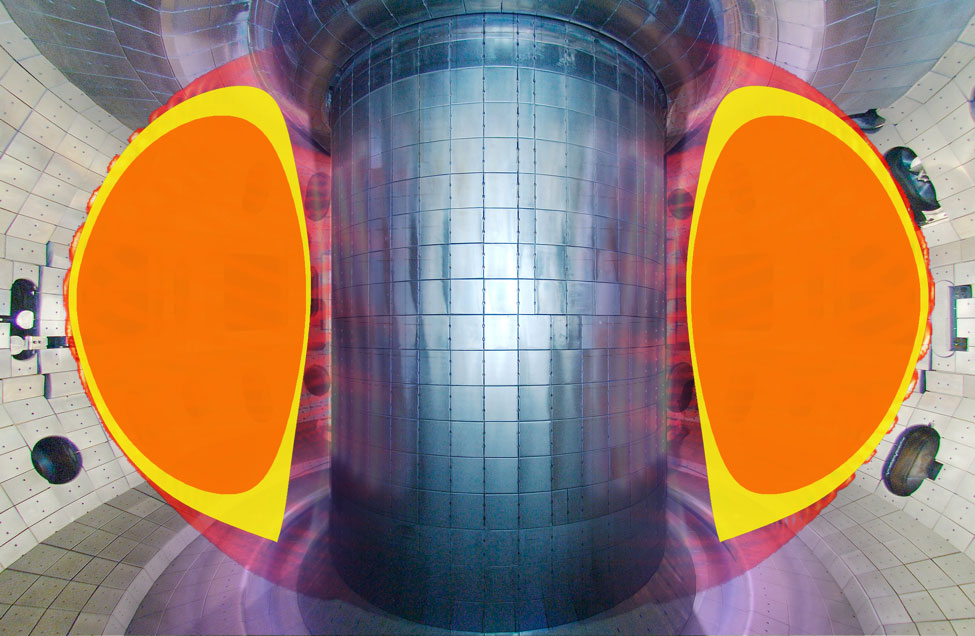 GA said it has received more than 500 proposals for reactor time.
The company has publicized several events since.
In late June, it announced that it had produced a more efficient way to get a fusion reaction, which researchers are calling Super H mode.
In July, GA announced news about how it might use more resilient materials in tokamak reactors.
And there was news only those schooled in nuclear physics could truly appreciate. Such aficionados recently got to read about reverse D-shaped plasmas created in the DIII-D tokamak. Federal grants paid for the work by a group of scientists that included Alessandro Marinoni of the Massachusetts Institute of Technology.
Thinking Big
Several miles away in Poway, General Atomics is assembling industrial sized superconducting magnets for a much larger tokamak reactor being built in France. GA announced in May that it finished work on one module of the central solenoid. When stacked together, six modules will form a solenoid 59 feet high. GA is building a seventh module as a spare.
The research reactor, called ITER, is expected to go into service in 2025.
GA developed the manufacturing processes in the Poway plant under a contract from UT-Battelle LLC, manager of the Energy Department's Oak Ridge National Laboratory.