BIOTECHS RECOVER MOMENTUM AFTER BEING WRITTEN OFF
These San Diego Biotechs Fell Hard, But Managed to Bounce Back
Thursday, July 18, 2019
Neurocrine Biosciences seemed destined to be a rise-and-fall story.
In 2006, the U.S. Food and Drug Administration turned down the company's sleeping pill. Neurocrine went into a tailspin.
By 2009, the company slashed its workforce to 67 employees, a decrease from 600 workers in high-flying days. Its stock traded at just north of $2 a share, about one-thirtieth the price of when the insomnia pill was thought to be a blockbuster drug.
That was then.
Today, Neurocrine has 630 employees and a $7.7 billion market cap, derived from two commercial drugs and a strong pipeline.
Once pegged as goners, San Diego life sciences companies like Neurocrine, Arena Pharmaceuticals and Tandem Diabetes Care made comebacks. Their stories shed light on how to weather an industry in which companies expand and contract like an accordion based on clinical trial results.
Switching Course
In 2008, longtime Neurocrine employee Kevin Gorman became CEO. It was a turbulent time.
Months earlier the FDA — again — rejected the sleep drug. It presented a dilemma: keep working on the drug — or pivot to earlier-stage compounds.
Gorman said "hundreds of millions of dollars" had been sunk into the insomnia candidate over nine years. But the company shifted its attention to elagolix, a drug for a painful condition called endometriosis in which tissue that lines the uterus grows outside of it.
"That was a pivotal decision," said Gorman.
And in hindsight, it was the right one. In 2010, data from elagolix's mid-stage trial lured a licensing deal with AbbVie.
Neurocrine received $75 million upfront, $40 million once the drug was approved in 2018, and the company is poised to gain hundreds of millions more in sales royalties.
The upfront payment — and another financing — pushed forward what became Neurocrine's first drug on the market: ingrezza for the movement disorder tardive dyskinesia.
Ingrezza accounted for the lion's share of Neurocrine's $451.2 million in 2018 revenue. The company self-commercialized the drug, something it plans to do as well with a late-stage Parkinson's program.
Its hopper also includes a drug aimed at a rare genetic disorder affecting the adrenal glands and four potential gene therapies that Neurocrine obtained for $165 million upfront earlier this year in a deal with Voyager Therapeutics.
Neurocrine formed in 1992. While now a commercial operation, Gorman attributed the company's resurgence to research and development. People, too.
"If you keep the focus on people — the internal people, external people you work with, and ultimately the patients that you hope to treat — that's a very good recipe for success," said Gorman.
A little luck helped.
In 2008, the company needed cash to stay afloat, but poor financial performance ruled out going to Wall Street.
So, Neurocrine sold its headquarters and leased back part of the space, netting $60 million in the deal. Not long after the real estate market imploded.
"If that would have taken even six weeks longer the company wouldn't be around today," Gorman said.
While Neurocrine had no way of predicting the crash, a lesson accompanied the sale.

"When we make a decision, we're decisive and act on it," Gorman said.
In 2017, analysts dropped coverage of Tandem Diabetes Care with the company in a death spiral.
But starting later that year, everything went right for the maker of touchscreen insulin pumps.
A Johnson & Johnson division exited the insulin pump industry, sending customers looking for another device to Tandem.
Repeat business turned into a thing. Customers who bought Tandem's first pumps four years prior — meaning their four-year warranty expired — again chose Tandem.
Then last year, the company won FDA approval for automated technology that predicts and helps prevent low blood sugar.
The result: Tandem's stock traded at a low of $2.40 a share in December 2017, but recently stood at $62.50.
Tandem's slump can be traced to insurer UnitedHealth Group in 2016 inking a major deal with competitor Medtronic. The move didn't lock up the market as some expected.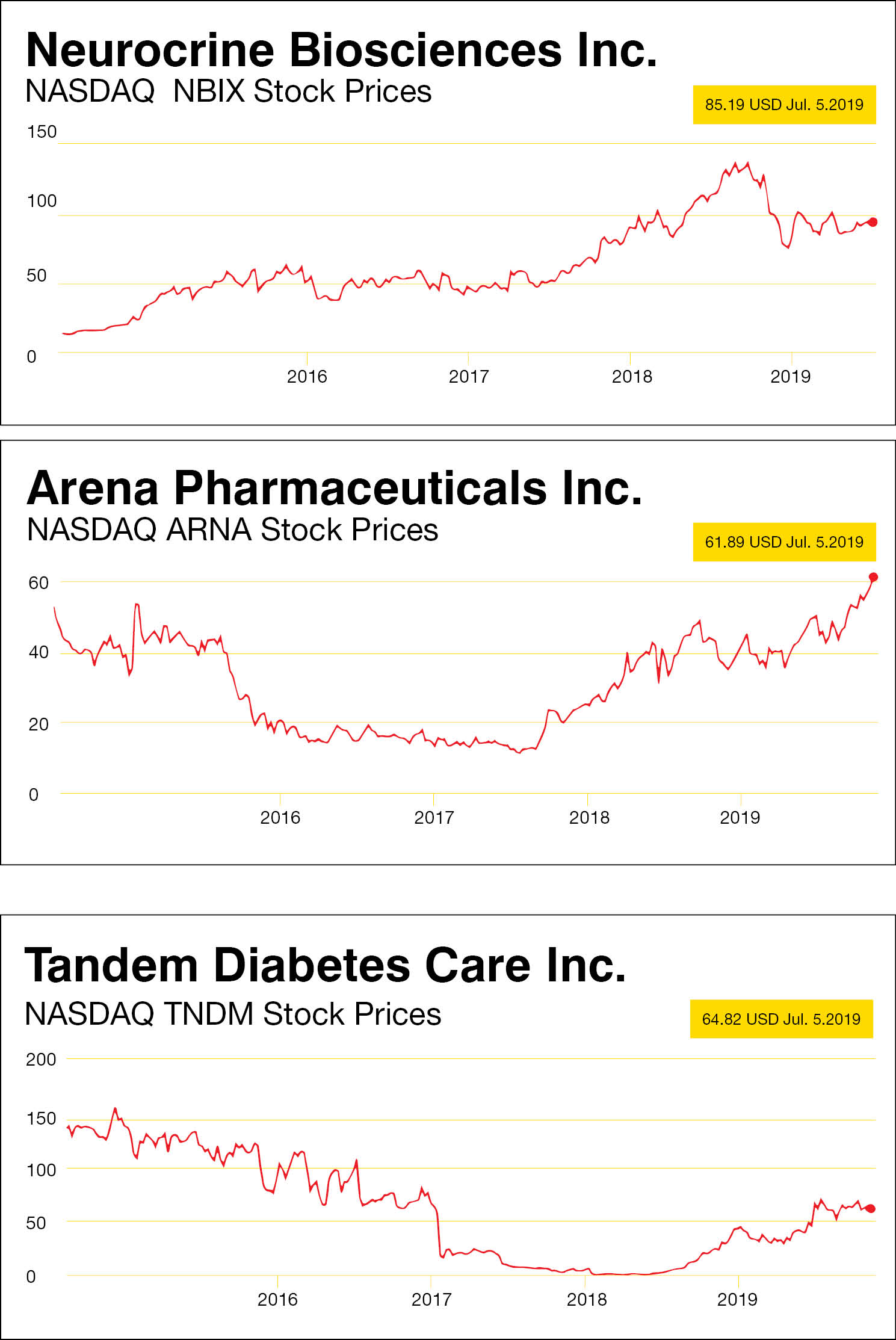 Dealing With Adversity
CEO John Sheridan said steady management — the company has had the same core executives for the last three and a half years — got Tandem through.
"Going through adversity made the team stronger," said Sheridan, who assumed the top post in March, having previously been chief operating officer.
Prior CEO Kim Blickenstaff transitioned to executive chairman of the board.
Now, Tandem wants to keep the momentum going. Based on positive clinical trial results, later this year it plans to release a more advanced automated insulin system. It's aimed not only at low glucose levels, but also high events.

"We don't take our competitors for granted even if we're doing well," Sheridan said.
For biotechs, rebuilding after a clinical trial flop can take years — if they're even in the position to do so. Typically, they don't have a commercial drug to generate cash, nor much investor money left over.
Few Come Back
"For every Neurocrine, there's probably a thousand that don't come back. I'm making that number up, but it's a giant number," said Jay Lichter, the managing director of Avalon Ventures.
He advises turnaround biotechs to focus on their pipeline. Getting back in investors' good graces hinges on that next clinical trial.
But telling a story can also be important. This was a takeaway of Amit Munshi, who orchestrated Arena Pharmaceuticals' comeback after being named CEO in 2016.
"Yes, it was a challenge to get investors on board with the turnaround," Munshi said in an email."We were in a position where we had to refine our story, rebuild trust and establish relationships between investors and the new management team, which took time."
He noted Arena's market cap went from $300 million to nearly $3 billion in the three years.

Five years ago, Arena's weight-loss drug disappointed investors. Under Munshi, Arena exited this market, while rebooting and advancing shelved autoimmune drugs. For instance, the company recently launched a late-stage trial of a drug for an inflammatory bowel disease called ulcerative colitis.
Arena has ample cash to advance programs, after earlier this year licensing another drug to United Therapeutics for $1.2 billion. The deal included $800 million upfront, with the possibility of an additional $400 million in milestone payments, as well as sales royalties.
Joe Panetta, the CEO of San Diego life sciences trade group Biocom, said biotechs like Arena with multiple drugs in development are in a better position to mount a comeback. Otherwise, their eggs are in one basket.
"It's a combination of leadership and a diversity of patent portfolio that allows them to shift gears," Panetta said.

Many biotechs experience dramatic highs and lows. Others plod along, only to lift off much later.
Founded in 1989, Carlsbad's Ionis Pharmaceuticals didn't hit it big until the 2017 release of its drug spinraza for spinal muscular atrophy, a muscle-wasting disease. The company is counting on a large pipeline, including a drug candidate for Huntington's disease, to spell more success.
While Arena, Tandem and Neurocrine rebounded, they've by no means dug a competitive moat. Like other biotechs, they must continue to innovate and execute — or they might find themselves in a desperate situation again.