Nominations Are Open for Next Top Business Leaders Under 40
Wednesday, July 17, 2019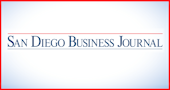 Do you know a young professional whose fire burns brightly? Who is making things happen? Whose work deserves recognition?
Nominations are now open for the San Diego Business Journal's 2019 Next Top Business Leaders Under 40 Awards.
The time to act is now, however, because the window for nominations closes in a few weeks, on Aug. 5. To nominate online, click here.
Just as we did last year, the San Diego Business Journal is looking for the next generation of key executives and entrepreneurs.
Last year's contest drew 300 nominations. A panel of independent judges selected among 150 finalists.
Up-and-coming leaders under the age of 40 will be honored during our Next Top Business Leaders Under 40 reception and awards presentation on Aug. 28. We plan to introduce the young leaders, change makers and innovators who are making waves, creating impact and leaving a positive mark on the San Diego community.
The event is scheduled at the NAT, also known as the San Diego Natural History Museum, at 1788 El Prado in Balboa Park. The event runs from 5:30 p.m. to 7:30 p.m.
Sponsors for the evening include Moss Adams and Alaska Airlines.
Last year's event drew more than 500 people.
For additional information, visit http://www.sdbj.com/bizevents/ or contact the events department at 858-277-6359.