HEALTH: $800 BILLION MARKET IS EXPECTED BY 2030
Startups Claim Slice of a Changing Medical Device Market
Wednesday, July 17, 2019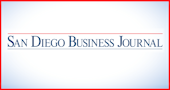 The news coming out of San Diego's medical device scene usually centers on the big dogs: Dexcom, ResMed and Nuvasive.
But in the last month four medtech upstarts landed funding rounds, part of a larger trend of growth in the sector.
San Diego's Immunicom this month brought in an $11 million Series B financing. The company makes a device that's designed to extract proteins in the bloodstream that prevent the body from fighting back against tumors.
The idea is to pair the device with other cancer treatments. But first, it will have tow pass regulatory muster. Proceeds will fund a recently launched clinical trial that includes 170 patients with triple-negative breast cancer.
Immunicon said funds will also help secure more global partnerships.
Acutus Medical's cash injection in June will speed up commercialization of its product that maps the heart chamber. This creates a roadmap for doctors performing cardiac ablation, a procedure used to treat an irregular heartbeat, or arrhythmia.
Acutus pulled in a $100 million Series D round, along with $70 million in credit. To date, the Carlsbad company has raised $308.2 million in venture capital, according to Crunchbase.
Two years ago, AcQMap won U.S. Food and Drug Administration approval. European Union regulators green lit the device around the same time.
June also saw two pain management devices pitched as opioid alternatives pick up seed funding. NeuraLace Medical pulled in $3.85 million, while Oska Wellness' haul was $5.5 million.
NeuraLace's Axon Therapy claims to deliver magnetic pulses to damaged nerves, "tricking" the brain into pain relief. The company anticipates FDA approval as soon as the second quarter of 2020.
Last October, NeuraLace won the first-place prize of $50,000 at Quick Pitch.
Similarly, Oska Wellness of Carlsbad said its device, Oska Pulse, uses electromagnetic field technology to quicken the repair of injured cells and increase blood flow.
The device can be obtained online, and the company is moving into health care channels. Oska said it's eligible for reimbursement through flexible spending accounts and health savings accounts.
Business consultancy KPMG forecasts the wider medical device industry will reach $800 billion by 2030 — growing 5 percent annually. But the report warns device makers they must stay on top of a shifting health care landscape.
"The days of simply manufacturing a device, and selling it to health-care providers via distributors, have long vanished," states the report. "Value is the new byword for success — prevention the preferred clinical outcome, and intelligence the new competitive advantage."
New reimbursement regimes, the report maintains, threaten those unwilling to adapt.
"New players — some from entirely different industries — are disrupting the sector by harnessing data to take ownership of customers, patients and consumers. In this volatile new marketplace, today's device players are in serious risk of being stuck in the middle of the value chain, as mere commodity producers."