PACIFICA TAPPED LUSARDI, HOLLIS DESIGN AND JULES WILSON DESIGN
The Plunge's $12M Renovation Makes a Splash
Wednesday, July 17, 2019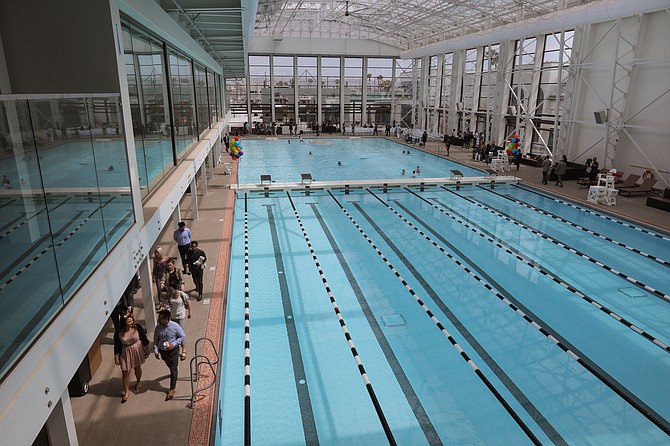 Amid much fanfare, San Diego's landmark Plunge swimming pool reopened in Belmont Park over the July Fourth weekend after a $12 million makeover that took nearly three years to complete.
Renamed The Plunge at Fit for the new Fit Athletic Club included in the enclosed pool, the Plunge traces its history to 1925, when it was built by John D. Spreckels as the centerpiece to the Mission Beach Amusement Center along with the Giant Dipper Roller Coaster.
At the time, the 12,000 square-foot Plunge was the largest saltwater swimming pool in the country. It was converted to fresh water in 1940.
The plaster building that originally covered the pool over time became so eroded that it was shuttered in 2015 as unsafe and razed.
Rebuilt by Lusardi Construction Co. under contract to Pacifica Enterprises, the new structure is all glass and aluminum with a retractable glass roof made by OpenAire.
Unlike the plaster reinforced walls of the original, the new building won't rust and won't crumble because of damage from the elements, Steve Thomas, general manager of Belmont Park for Pacifica Enterprises, said in a recent interview.
"It works really well in the condition of being 50 yards from the beach," Thomas said. "That's a huge issue."
In addition to the pool itself and the fitness center, the building includes a dining deck connected to the recently renovated Beach House.
Pacifica Enterprises has a long-term contract with the city to operate and make improvements to Belmont Park. The company has invested more than $20 million in the park with more improvements to come, Thomas said
Working with Lusardi Construction on the Plunge were Jules Wilson Design Studio and Hollis Design.
Fit Athletic Club is in charge of operations and management of the Plunge. The pool will be open to the public from noon to 5 p.m.
Daily rates are $15 weekdays for adults and $18 weekends. For children under the age of 17 and adults over 65, daily rates are $12 weekdays and $15 weekends. There's also a family swim rate of $30 for up to four people with an additional $5 per person charge for more than four.
There also are monthly rates of $50 for adults and $40 for children and seniors.