Alliance Healthcare Foundation Hires New Executive Director
Wednesday, July 17, 2019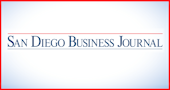 Sarah Lyman has been hired as the executive director of the Alliance Healthcare Foundation, a nonprofit that provides grants to nonprofits that boost health care access for those in need.

Before Alliance, Lyman served as the executive vice president for Washington's Empire Health Foundation, which oversees $70 million annually in funding.
She earned her MBA -- and her undergraduate degree in business administration -- from Eastern Washington University.
Alliance cited Lyman's experience, including in population health, which stresses integration of public health and medical services to improve health outcomes.