VetStem Keeps Pets In Their Starring Roles
Tuesday, July 16, 2019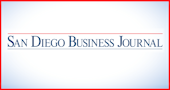 Poway-based VetStem Biopharma, a privately held regenerative veterinary medicine company, showed its star qualities in the film, "Animal Pharm: Where Beasts Meet Biotech."
According to the company, VetStem earned a featured role in the film through its work in regenerative medicine for animals. Something for which CEO Bob Harman said he was originally called "crazy" by some when he started out.
Well, now, the company has won respect, and the film won Best Nature and Animals Film at a recent festival.
Harman said, "The film provides a great service to the public by providing legitimate education about cell therapy in the veterinary field and how this can assist the field of human stem cell therapy."
According to the company, "VetStem has been providing stem cell services for over 15 years for the treatment of orthopedic conditions in dogs, cats and horses. VetStem holds exclusive licenses to a large portfolio of patents, including world-wide veterinary rights for the use of adipose-derived stem cells…"
And as for a sequel: VetStem recently launched a human stem cell company, Personalized Stem Cells Inc. (PSC)."
High flying categories such as regenerative medicine and satellites get a lot of the glory these days, but other amazing companies have their feat on the ground or even below it.
Sensemetrics has entered into a partnership agreement with DHI A/S to offer integrated industrial internet of things solutions for mine water operations.
Sensemetrics says it "provides a standards-based approach for collecting, organizing, and structuring data from the physical world. By bringing this standardization and ease to the industrial IoT landscape, we (the company) fight the fragmentation that suppresses the adoption of IoT; making collaboration less costly and challenging."
According to sensemetrics, DHI will integrate with the sensemetrics platform to automate data collection into DHI's software. Together, this approach "creates a digital twin with all virtual components for a 'cyber-physical' mine water management system. It also provides a continuous value-cycle between the physical system and the cyber equivalent, allowing outcomes of future management actions to be tested, optimized and automated."