LAW: FIRM NEARLY DOUBLED REVENUE IN 2018 TO $40.6M
Tyson Sees Need for 100 Additional Attorneys
Tuesday, July 16, 2019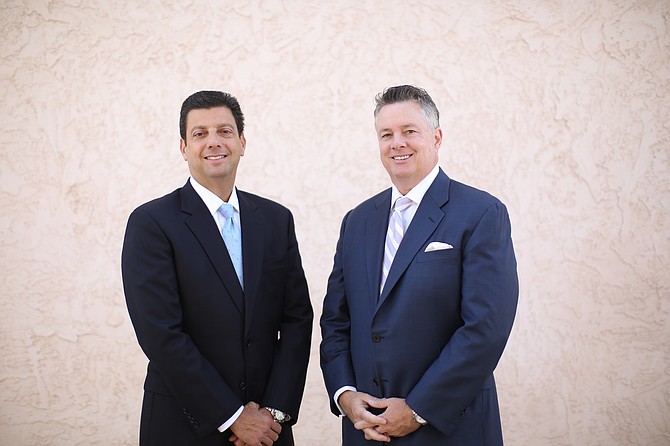 Tyson & Mendes LLP is experiencing quite a growth spurt, practically doubling its revenue in 2018 to $40.6 million.
Leaders at the La Jolla-based law firm say they would like to add 100 attorneys across all of its locations in the next 12 months.
The firm's 140 attorneys plus support staff seem to have quite a bit of work. Much of Tyson & Mendes' business is defending insurance firms in lawsuits. The stakes are high during an era of jury awards that some call "nuclear verdicts."
The firm has built a reputation for winning at trial, said Robert Tyson, the firm's managing partner.
"If you read the papers or look on the internet, you're hearing about runaway jury verdicts all the time," said Tyson, seated at a long conference table at his office, with several of his associates close by. "That's what's happening with the Monsanto verdicts, the Johnson & Johnson talc powder [verdict] last year. There was the first-ever single-plaintiff billion-dollar verdict … that was a terrible case out of Georgia …
"Juries are awarding significant sums and we've come up with a specific formula to make sure that there's justice for all — that there's justice for defendants just as well as there is justice for plaintiffs."
Tyson said he is working on a book for defense attorneys about how to avoid runaway jury verdicts. He plans to finish the manuscript by the end of the year.
A Watershed Case
A case called Howell v. Hamilton Meats, argued in 2011 before the California Supreme Court, was a watershed moment for Tyson & Mendes. "That put us on the map," said Tyson.
In the case, the court examined what sort of medical damages an injured plaintiff may collect — whether it is the amount the medical establishment puts on a bill, or the discounted amount that insurance companies typically pay out.
In the Howell case, the court concluded it was the latter.
That saves insurance companies in California some $10 billion a year in claims, Tyson said.
The 2011 case was the foundation for several other cases, the law firm said.
Tyson and his partner, Patrick Mendes, established their firm in a little space on La Jolla Boulevard in Bird Rock in 2002. At its beginning, the firm had a single client in the insurance industry. The partners did everything, Mendes said — down to signing proofs of service and licking envelopes.
The firm's reputation grew over time, leading to an "explosion of growth," Tyson said.
Expanding the Territory
The firm now has 250 employees in eight offices in six states.
San Diego is the largest office. It expanded by 30 percent last year, going from 47 to 61 attorneys. In all eight offices, the attorney count went from 80 to 130.
Tyson & Mendes' second largest office is Los Angeles. The firm now has its eye on opening a ninth office in Orange County in August. The partners have selected a branch managing partner from the ranks of Orange County attorneys, who will make the jump from his current firm to Tyson & Mendes. Tyson declined to say who that person is.
Looking for Talent
"We just can't hire enough lawyers in San Diego, so we have to reach out to adjoining cities," he said. "We're hiring in L.A. We're hiring in San Diego. We can't hire enough, and so Orange County is really an employee pool that we've been kind of missing out on."
The business is working to make itself more attractive to prospective employees.
Law firm leaders said one of the unique employee benefits offered by Tyson & Mendes is a student loan repayment program, which can cover up to $10,000 of an employee's loan. Students just out of law school can be liable for repaying loans in the hundreds of thousands of dollars.
The business also offers extensive paid parental leave. Unique programs set the firm apart, said Cayce Lynch, administrative partner at Tyson & Mendes.
Women's Initiative
Lynch founded the company's women's initiative, emphasizing equal opportunity, recruitment, advancement and development. The firm boasts a 50-50 split between men and women attorneys, while the industry average is 35 percent women. Support staff at Tyson & Mendes is 80 percent female.
The business's home office is split among three locations in La Jolla. There is the original space in a building that once housed a call center in Bird Rock, as well as a building with an ocean view on the other side of the street. A third location is in the University Towne Center neighborhood.
Tyson said the business would like to get all of its local employees under a single roof, and is reviewing its options. The firm is looking for a central San Diego address with 60,000 square feet or more.