TAKES 7,100 SQUARE FEET IN IRVINE CO. BUILDING AT 501 W. BROADWAY
Law Firm Relocates Downtown to Improve Services for Clients
Tuesday, July 16, 2019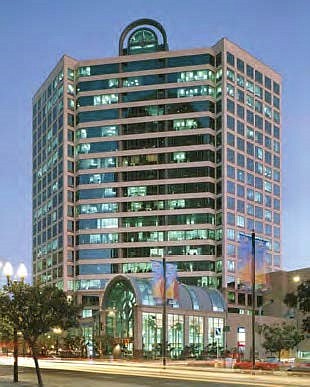 Bucking what had been a trend of sorts for law firms to leave downtown San Diego for suburban locations, Stoel Rives picked a very urban location for is new offices.
The firm moved from El Camino Real to 501 W. Broadway St., leasing 7,100 square feet in the building owned by the Irvine Co.
"Downtown San Diego is undergoing a dramatic redevelopment that will attract new business and legal talent, especially younger attorneys," said Brian Nese, managing partner of the firm's California offices.
"The building is just steps away from the waterfront and courts, within walking distance to the financial district and Petco Park, and minutes from the historic Gaslamp Quarter and Horton Plaza," Nese said. "The office's proximity to the courts and local government offices also enables attorneys to continue building relationships with local leaders as they build the city's energy future — an industry to which Stoel Rives is deeply committed."
Energy Clients
With more than 100 lawyers in 10 locations throughout the country, Stoel Rives specializes in serving traditional and renewable energy clients.
"Relocating the office is one part of Stoel Rives' strategy to continually improve the way it runs its business in order to offer clients better service and value. The new office offers a centralized and convenient location for clients in key industries, including energy, natural resources and cleantech," Nese said. "San Diego is a cleantech hub and a leading market for renewable energy. The city is at a crossroads for our energy future as it evaluates whether to launch the largest community choice aggregator in the state. This would drastically transform the energy landscape in Southern California."
Nese said seven lawyers and supporting staff work in the new offices, which Stoel plans to remodel within the next year to 18 months.
Remodeling is a growing trend among San Diego law firms.
Renovations
Pacific Building Group has done a number of those renovations recently as law firms shift to a more open layout and do digital, ditching the paper files that took up so much space in their traditional offices, said company President Jim Roherty.
They included Robbins Arroyo in UTC, Kilpatrick Townsend and Perkins Coie in Del Mar Heights and Schor Vogelzang in downtown San Diego.